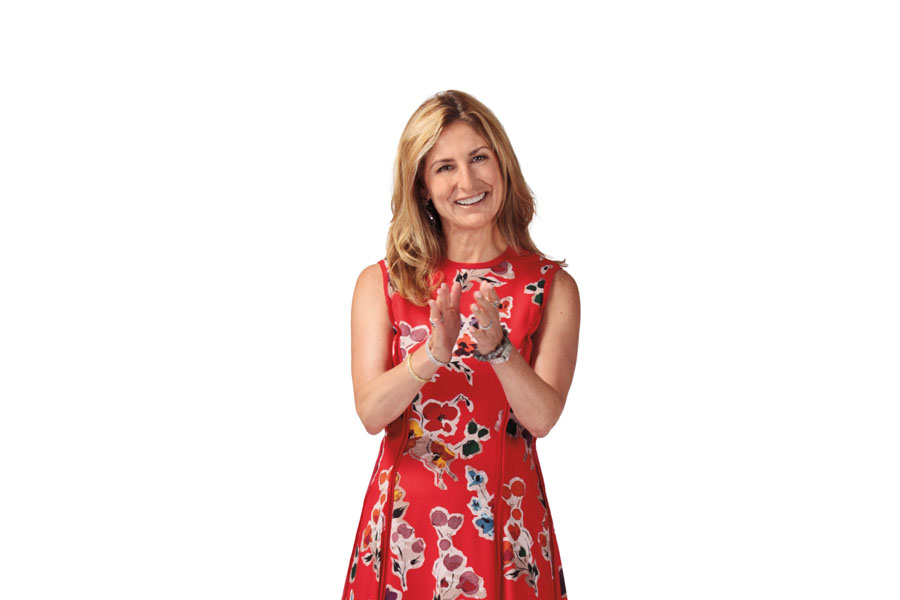 After 10 years as a member of the Board of Overseers at Weill Cornell Medicine, Jessica Bibliowicz took the helm as chairman in January 2015. As a successful executive in the financial sector for nearly three decades, Ms. Bibliowicz's business acumen and passion for philanthropy made her an enthusiastic and inspirational leader during what became a time of transition at Weill Cornell. She is also a member of the Board of Trustees of Cornell University, the Board of Trustees of NewYork-Presbyterian and the Board of Directors of Jazz at Lincoln Center, to name a few.
Ms. Bibliowicz recently sat down with Larry Schafer, vice provost for external affairs, to speak about philanthropy's role at Weill Cornell Medicine and the importance of giving as we look toward the future of medicine.
LS: You've been chairman of our board for two years. Thinking back over that time, what have been the board's major accomplishments?
JB: It's very rare to have a transition of leadership at both the university and the medical college at the same time, but we did. We saw everyone come together – physicians, researchers, donors, students, faculty, staff and the Board of Overseers. Weill Cornell is an amazing institution and I'm so proud of our organization for its dedication through that transition. Then, with the appointment of Dean (Augustine M.K.) Choi, we knew we were on the right path. He and I are partners and there's a great mutual respect there. To me, the leadership transitions were the unexpected part of becoming chairman, but sometimes the unexpected is the most rewarding.
LS: Our Overseers have always been connected and committed, but these last couple of years, people really jumped in.
JB: When people feel needed and see that they can add value in many ways – not just by giving money – they forge a deeper commitment. Many of the Overseers have gotten to know Weill Cornell better than ever before. They've always been proud, but the more involved you get, the more you love the place.
LS: Your eyes light up when we talk about clinical care and research, but your eyes light up even more when we talk about our students. What is that like for you, to be involved with them?
JB: It's so much fun. I recently met with Dr. Rahul Sharma (emergency physician-in-chief for NewYork-Presbyterian/Weill Cornell Medical Center and an associate professor of clinical medicine) and three of his students who are part of our Healthcare Leadership and Management Scholars Program. They are amazing and incredibly passionate. They're working on telemedicine, expanding our outreach and bringing Weill Cornell to more people. With these students at the helm, the future is spectacular.
LS: I know that you and your husband have two terrific and successful sons. How have you worked with your family to teach them philanthropy?
JB: I think the most important thing for us is to let our kids be their own people and develop their own philosophy and strategy toward giving over time. One way we introduced them to philanthropy was on the eighth day of Hanukkah every year, we would give them each $50 and tell them it was for charity. We would let them decide how and where to donate it. It was incredible to watch them think about giving and decide how they wanted to contribute. Both our sons continue to be active with charitable organizations as adults.
LS: Your parents, Sandy and Joan Weill, have had an enormous impact on Weill Cornell and other institutions in New York City. (Sandy is Chairman Emeritus of the Weill Cornell Medicine Board of Overseers and Joan is a dedicated volunteer, currently as co-chair of the Women's Health Symposium; both have been major benefactors.) Are there themes in your family around philanthropy and differences between the generations?
JB: When I first joined the Weill Cornell board, I saw my father's passion for it and over the past 10 years, it has become an amazing passion for me as well. I can say that it's been one of the greatest things I've ever done. My father and I are closely aligned with our philanthropic interests – healthcare, kids and education. I believe that each generation's way of giving changes, and the current generation, millennials in their 20s and 30s, is developing their philosophies now. I think that a lot of them are thinking about investments. Private funding is going to be critical to spur innovation, which is a great opportunity. One of the reasons that Weill Cornell is attractive is that we can share the science with our donors. Our doctors, our researchers, our students can talk about things that are so mesmerizing, so exciting and so promising. It makes it hard to say, "I don't want to invest in the future of medicine."
LS: Looking to the future, what are some expected opportunities for Weill Cornell in the next few years?
JB: I have this sense that we're on the cusp of some big discoveries – similar to the way that technology advanced and then saw a big boom. We are in a very strong and steady position as an institution. I see us continuing to grow our wonderful group of physicians and maintaining the highest quality of care. We will continue to focus on building our research capabilities and on bringing patient care and research together as close as possible. When the physicians are informing the scientists, and the scientists are informing the physicians, it is an incredibly patient-centric approach to healthcare.
LS: Dean Choi frequently references collaboration and that's what he means, getting physicians and scientists to work together. How do you see that benefiting Weill Cornell?
JB: We have such an incredible opportunity to take insights from patient care to the researchers who can then translate that information to formulate new medicines, devices, treatments, and a new way of thinking to create cures and improve people's lives. We've accomplished a lot and I think we can continue to do a lot more through collaboration, especially with Cornell University faculty in Ithaca and new Cornell Tech programs here in New York City. There are so many brilliant minds among Weill Cornell and our neighbor institutions: The Rockefeller University, Memorial Sloan Kettering Cancer Center, Hospital for Special Surgery and Hunter College. I think we have a fantastic partner in NewYork-Presbyterian. The ability to collaborate and progress forward is tremendous. The medical school allows us to bring together great physicians and scientists who contribute to the future of medicine. We are sending brilliant, passionate and caring physicians, researchers and physician assistants out into this world.