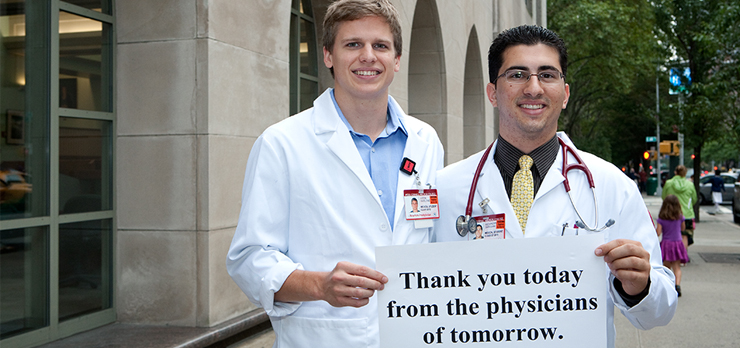 Honoring Your Support
Partners in Medicine
The Partners in Medicine program recognizes the efforts of an exclusive circle of Weill Cornell Medicine donors who share a profound interest in the future of medicine. With annual contributions of $1,000 or more, our Partners help our institution lead the way in pioneering research and innovative treatments – pairing the latest in technologies with a commitment to compassionate and person-to-person care.
For more information about how to become a Weill Cornell MedicinePartner, contact:
Lorelei Schroeter
Director of Philanthropy Engagement and Annual Giving
(646) 962-9531
las2026@med.cornell.edu
Stimson Society
The Lewis Atterbury Stimson Society honors a distinguished group of alumni, faculty, staff and friends who have included a commitment to Weill Cornell Medicine in their charitable estate plans. Planned gifts, such as bequests, life income gifts, charitable trusts, retirement plans, real estate and insurance policies, play a vital role in ensuring our institution's continued leadership in medical education, research and patient care.
Led by co-chairs Overseer Ian Smith and alumnus Michael Alexiades, M.D. '83, the Stimson Society holds an annual donor recognition luncheon in the late spring, where members have an opportunity to socialize with other philanthropists and hear about thought-provoking topics presented by a member of our esteemed faculty. Stimson Society members also receive Philanthropist, a newsletter designed to share important information about Weill Cornell Medicine's current research, patient care, educational programs, and up-to-date information about special philanthropic opportunities.
For information about charitable estate planning, please contact:
Planned Giving Office
(646) 962-9567 or plannedgiving@med.cornell.edu
To learn more about different opportunities in planned giving, visit this page.
Named Giving Opportunities
Naming opportunities are available in the many laboratories, offices and conference spaces in our state-of-the-art Belfer Research Building, a striking centerpiece for our campus at 69th Street between York and First Avenues.
Endowed giving opportunities are available for named student scholarships, professors and researchers. Giving at every level helps support Weill Cornell Medicine.
For more information on naming opportunities in the Belfer Research Building and other areas on campus, contact Lucille Ferraro, Assistant Vice Provost for Development, at (646) 962-9491, or development@med.cornell.edu.
Endowment Opportunities
Weill Cornell Medicine invests its endowment funds to provide support in perpetuity for top priorities such as innovative research programs, world-class faculty and the best and brightest students.
Weill Cornell Medicine's endowment has grown steadily over the years as alumni and friends have sought to help secure the school's well-being. Donors to endowed funds become an essential part of the Weill Cornell Medicine family by supporting those outstanding faculty members, fellows, students and institutional resources that keep our institution at the vanguard of research, medical education and patient care. Listed below are several endowment opportunities available at Weill Cornell Medicine.
Click here for more information about Endowments at Weill Cornell Medicine.
Scholarship Hall of Fame
The Scholarship Hall of Fame recognizes and celebrates donors who have given more than $1 million to support scholarship at Weill Cornell Medicine.
Below is a list of the inductees to the Scholarship Hall of Fame. We look forward to adding additional friends when their scholarship support reaches the $1 million threshold.
Michael M. Alexiades, M.D. 

'

83, and Patrice M. Buonocore, D.D.S.
Armour-Lewis Family Foundation
Vincent Astor Foundation

Christopher L. Barley, MD

Leon and Debra Black

Laura and Lloyd Blankfein/GS Gives
Margo Krody Blutt and Mitchell J. Blutt, MD
Carson Family Charitable Trust
Silas Chou & Family
Estate of Edith Allen Clark
Libby and Richard P. Cohen, MD '75
Robert W. D'Acquisto, MD '76
Christina S. and Robert S. Dow

Timothy C. Dutta, MD '99

Lisa and Sanford B. Ehrenkranz
The Feil Family Foundation
Jae French
Friedman Family Foundation
Family of Steven M. Friedman, MD '72
The Gilbert Family Foundation
Joan B. Gossner
The Leona and Harry B. Helmsley Foundation, Inc.
Irma T. Hirschl Trust and Monique Weill-Caulier Trust
Karen T. Hochman

Barbara and Lawrence A. Inra, M.D.

Anna-Maria and Stephen Kellen Foundation
Estate of Virginia T. Kinzel

Phyllis and Harvey Klein, MD

John J. Kuiper, MD '61
Estate of Ethel Laracy
Helen and Rita Lurie Foundation
Thomas P. McGovern, MD '74

Robert Menschel

June Newmark

Phyllis, Kate and Esmond Nissim

Dennis B. Poster

Clare L. and Rees Pritchett, MD '48

Scott and Kimberly Resnick

The Rogosin Institute
Estate of Dr. May Sherman Rosen
Andrew H. Rosenthal
The Louis and Rachel Rudin Foundation, Inc.

Idee German Schoenheimer

Jeanne Sorensen Siegel and Herbert J. Siegel
Joseph and Sylvia Slifka Foundation
The Starr Foundation

Charles R. Steinberg, MD '64

Marjorie and Michael Stern

Frances and Gene Stewart

Estate of George D. Stilson
J.T. Tai and Company Foundation
Estate of Catherine W. Wilens
The Weill Family Foundation and Joan and Sanford I. Weill
Philip G. Woodward Trust
Lillian Yung, EdD
Marie and John Zimmerman Fund
Scholarships have an extraordinary impact on the lives of Weill Cornell Medicine students. We are pleased to recognize all those who make opportunities for our students possible through scholarship support.
To see the list of fully funded scholarships as of September 2021, 
go to: https://give.weill.cornell.edu/sites/default/files/Salute to Scholarship September 2021.pdf