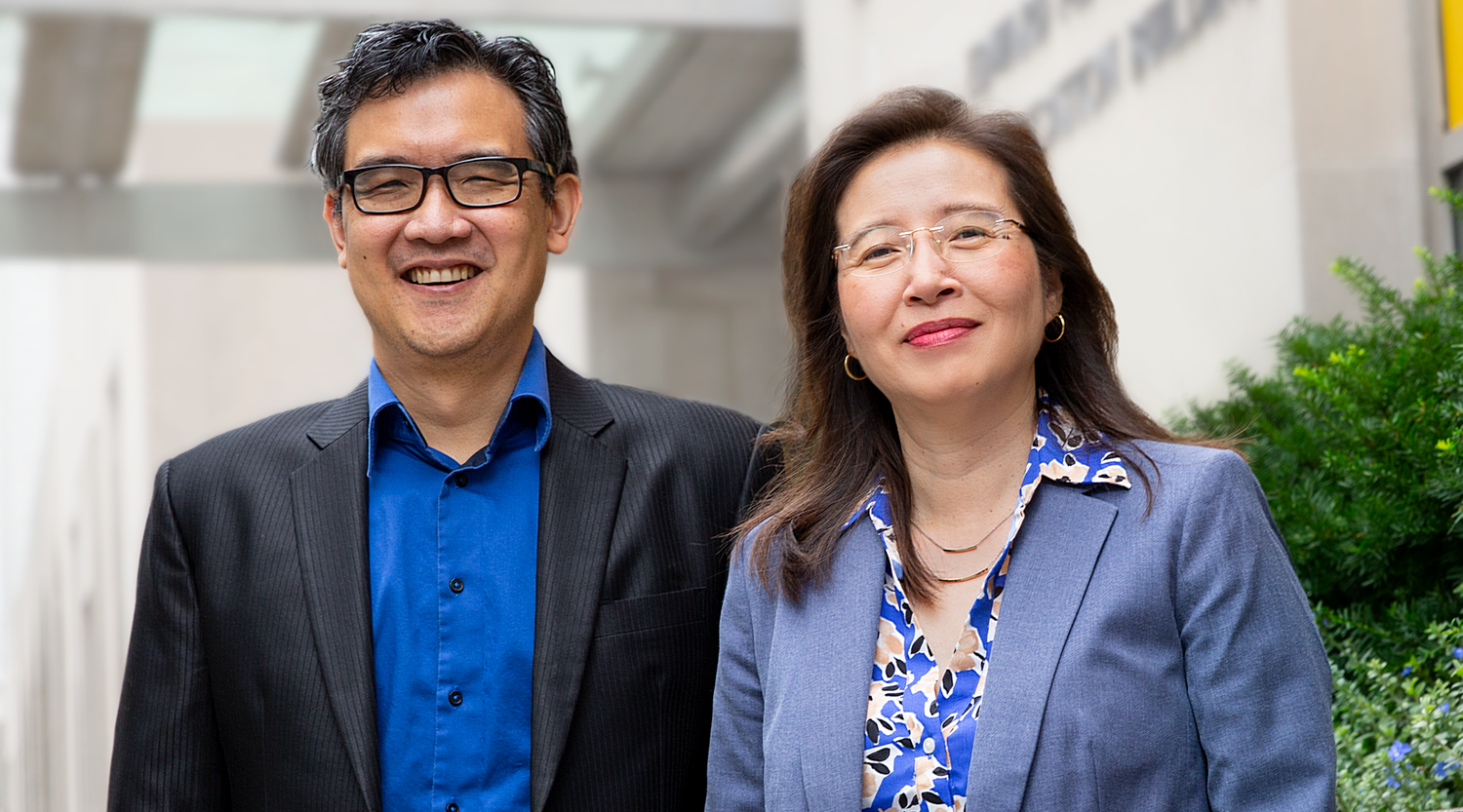 Dr. Kai-ping Wang and Dr. Linda Chuang (M.D.'97) 
A Gift That Celebrates the Connection Between Medical Students and Alumni
Dr. Linda Chuang (M.D. '97) is a believer in the power of paying it forward, as she likes to say. When she was a student at Weill Cornell Medicine more than 25 years ago, Dr. Chuang was deeply grateful for the inspiring faculty who mentored her and for the generous scholarships that allowed her to realize her lifelong dream: to become a physician. "I remember struggling financially in those days," says Dr. Chuang. "Thanks to extraordinary donors who were there to help me when I was a young student, I was able to pay my bills and flourish in a very tough academic environment."
Now, Dr. Chuang and her husband, Kai-ping Wang, M.D., both psychiatrists by training, are making a difference with a generous bequest in their wills to help future generations of Weill Cornell Medicine students afford an elite medical education. Additionally, Dr. Chuang was among the first alumni to participate in the popular We're Changing Medicine Legacy Match Challenge, which matches 10 percent of the face value of a bequest to support Weill Cornell Medicine's new student residence. Dr. Chuang worked part time during her college years, expecting she would do the same in medical school. But her advisors cautioned that medical school was more challenging than college, and that to succeed, she would have to concentrate fully on her studies. At Weill Cornell Medicine, Dr. Chuang found an extremely supportive environment, where administrators worked with her to afford a medical education.
Dr. Wang, who did not attend Weill Cornell Medicine, was impressed with his wife's positive experiences and the school's tradition of collaboration and support. "Linda worked very hard to succeed, but she also understood how important it was to be in an environment that wants you to succeed," says Dr. Wang. "Not every medical school has that kind of culture." Dr. Chuang also chose to attend Weill Cornell Medicine because of its academic reputation and her experience as a college intern in the laboratory of William Holloman, Ph.D., professor emeritus of microbiology and immunology. Her youthful experience in a world-class research lab cemented her determination to become a physician; Dr. Holloman and other faculty mentors encouraged her professional aspirations at every turn.
Now that Dr. Chuang and her husband are settled in their careers, they felt this was the time to map out a philanthropic strategy to support others, a decision made easier by Weill Cornell Medicine's Legacy Match Challenge. The Legacy Match Challenge enables Dr. Chuang and Dr. Wang's bequest – their future gift to Weill Cornell Medicine in their estate – to trigger an immediate cash gift from the Challenge the new residence hall and other educational initiatives are all worthy endeavors to support because they are essential to the well-being and achievement of our future physician-scientists. We're grateful to Dr. Chuang, Dr. Wang and our many alumni who give back so generously."
Weill Cornell Medicine expects to begin construction next year on the 16-story, 178,000-square-foot building at the corner of York Avenue and 74th Street. "Kai-ping and I are overjoyed to be able to help students now and in the future," Dr. Chuang says. "Thanks to the bequest, we can respond to the needs of future generations; thanks to the Legacy Match Challenge, we can have an immediate impact on student life, which has always been our dream."
This story can be found in the 

Philanthropist Fall 2022 issue.