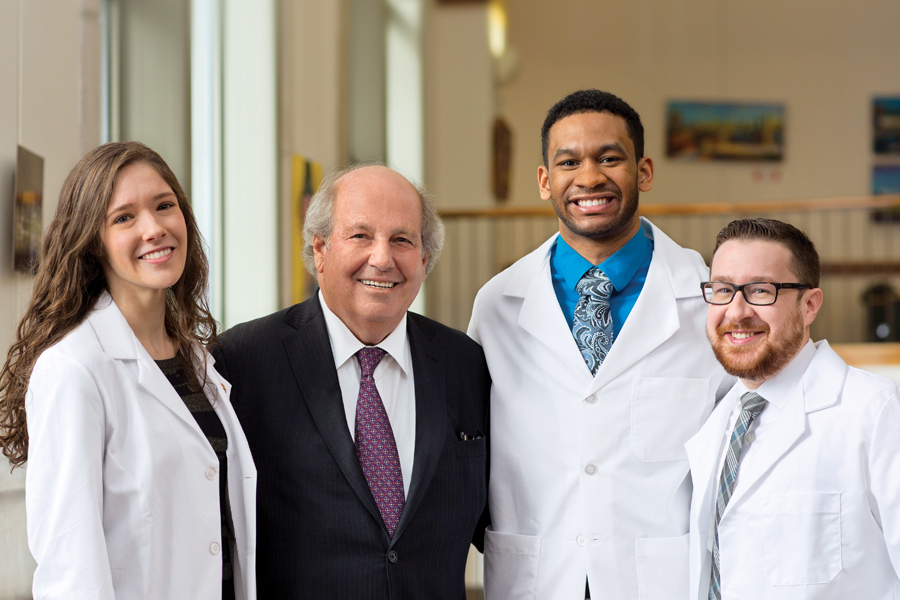 With the goal of advancing Weill Cornell Medicine's mission to nurture the best future healthcare leaders, the Feil family has made an extraordinary gift to establish a state-of-the-art student center on campus. The $12.5 million gift will expand the institution's dedicated student space by nearly 75 percent, creating new areas for education, collaboration, wellness and student engagement.
The 16,200-square-foot Feil Family Student Center, housed in renovated space on the first and second floors of the main campus buildings on York Avenue, will offer a place for classrooms, meetings, quiet study and informal gatherings to bring students together in the heart of the institution. The new center will complement the Weill Education Center, established in 1996 by Joan and Sanford Weill and other generous donors, and renovated in 2015. The Feil Center will provide a spacious and modern hub for student life, innovation and teaching, and will help to further realize the institution's new curriculum. Construction will begin June 2017.
"The Feil family's generous support over the years has helped cement Weill Cornell Medicine's reputation as a world-class global institution," says Jessica Bibliowicz, chairman of the Board of Overseers. "We are grateful for their generosity once again, as this outstanding gift will fund student facilities that will strengthen our commitment to the institution's mission, fuel advances in medicine and enrich the educational experience."
The Feil family is one of Weill Cornell Medicine's foremost benefactors, championing patient care, research and education at the institution for more than three decades. The family's extraordinary support, totaling more than $90 million to date, has provided significant funding toward the Belfer Research Building's construction, as well as for student scholarships, physician training, professorship endowments and clinical scholar awards. The family also established the Weill Greenberg Center's Judith Jaffe Neurology Unit.
In 2010, Weill Cornell Medicine named its research building on 61st Street the Gertrude and Louis Feil Family Research Building, in honor of the family's longstanding support. Their 2013 gift established  the Feil Family Brain and Mind Research Institute, a multidisciplinary, translational neuroscience research center.
"We are honored to support Weill Cornell Medicine's extraordinary efforts to educate our next generation of leading doctors and scientists," says Weill Cornell Medicine Vice Chair Overseer Jeffrey Feil, who is also chairman of the Board of Overseers' Initiative for the Brain Subcommittee. "Our longstanding relationships with many of Weill Cornell Medicine's esteemed physicians have been a source of inspiration for us – they exemplify the very best in science and medicine, and demonstrate how to make a difference in the world."
"The Feil family and our family have a shared devotion for enhancing Weill Cornell Medicine's educational mission," says Sanford Weill, chairman emeritus of the Board of Overseers. "Together, the Feil Family Student Center and Weill Education Center will provide our students with the very best learning experience that will ensure their future success as healthcare leaders."
"Education is Weill Cornell Medicine's lifeblood – it is the way in which we can assure a lasting effect on healthcare and our patients," says Dr. Augustine M.K. Choi, the Stephen and Suzanne Weiss Dean."We are deeply grateful to the Feil family, whose generous gift exemplifies our vision for how to shape the best doctors and scientists, and ensures that our institution remains at the forefront of education."
Excellence in education has been a touchstone at Weill Cornell Medicine since its inception in 1898, reflecting an enduring commitment to transform aspiring doctors and scientists into world-class professionals. The Feil Family Student Center continues that storied tradition. Functioning in collaboration with the Weill Education Center — the heart of formal academic education at the institution — the Feil Family Student Center will provide students with a comfortable and modern environment to support their ambitions.
The center will feature small group study rooms, a student activity room, a computer lab, lounges and state-of-the-art instructional spaces. It will support the institution's new medical curriculum, unveiled in fall 2014, which provides students with a hands-on, interactive education that integrates basic science with clinical care, and emphasizes the core principles of professionalism. All spaces will feature flexible room configurations and enhanced information technology capabilities.
"Just as our students have entrusted us to provide them with the tools to become scientifically inquisitive, compassionate and highly skilled physicians, it is incumbent upon us to ensure their wellness and professional growth during their education," says Dr. Barbara Hempstead, senior associate dean for education and the O. Wayne Isom Professor of Medicine. "Thanks to the Feil family's remarkable generosity, we can maximize the effectiveness of our new curriculum and  enhance the student experience."
Download Milestones Issue:

Milestones March 2017