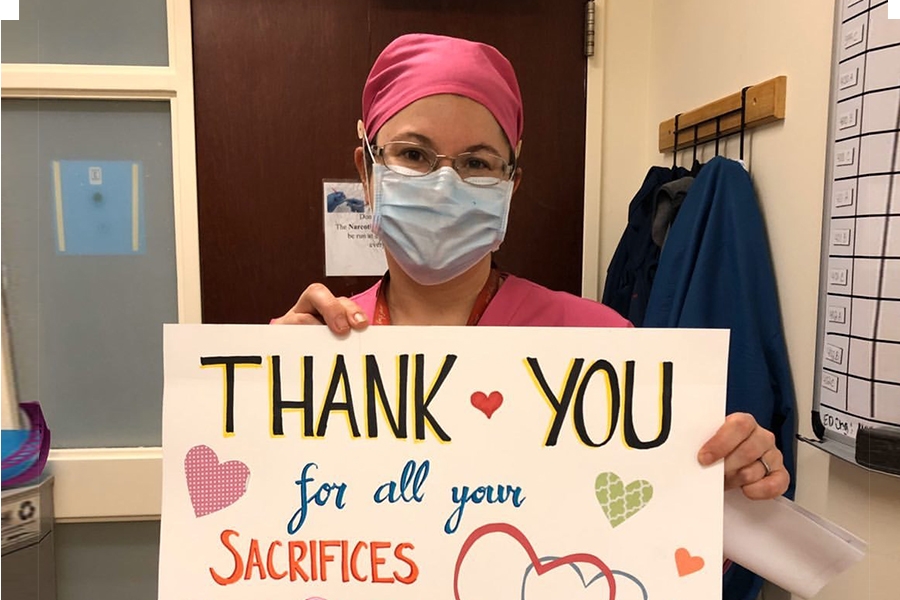 Dr. Marianne Nellis, in the pediatric ICU, holding a sign of thanks for our healthcare heroes
Standing at the epicenter of a devastating pandemic, Weill Cornell Medicine and its extraordinary front-line medical workers are battling COVID-19 with ingenuity, tireless labor and the support of generous donors throughout the world. This close and powerful collaboration is driving Weill Cornell's successes against the coronavirus and is helping critically ill patients survive.
Donors from as far away as Europe, Asia and the Middle East have contributed more than $17.2 million to aid the institution's efforts to procure medical supplies, feed healthcare workers, conduct research and ensure an uninterrupted flow of essential services. Additionally, donors have arranged contributions of large quantities of face masks, respirators, other personal protective equipment (PPE), and even food.
"The kindness, decency and generosity evident everywhere in our hard-hit community is just overwhelming," says Dr. Augustine M.K. Choi, the Stephen and Suzanne Weiss Dean.
"Thanks to our donors, Weill Cornell's front-line staff are able to face the pandemic with teamwork and resolve – exemplifying the very best of the Weill Cornell family."
The influx in donations has come during an unprecedented response to the pandemic in New York City. To handle the flood of patients with severe COVID-19, Weill Cornell and NewYork-Presbyterian Hospital converted several operating and recovery rooms into new intensive care units (ICUs). Many physicians and nurses left other assignments to join colleagues in the emergency rooms and ICUs.
Researchers put aside their own work to focus on coronavirus testing and therapies, creating a COVID-19 Research Alliance to study the disease. The alliance is made up of top physician-scientists who are working together to innovate immediate scientific contributions during this time of global pandemic.
Members of the Board of Overseers responded to the COVID-19 crisis with more than $10 million in donations. This is highlighted by a $5 million gift from Overseer Maurice R. Greenberg and his wife, Corinne Greenberg, which will be used to support COVID-19 research at Weill Cornell Medicine.
The outpouring of generosity from our donors to support our COVID-19 response has enabled us to allocate $1 million to a relief fund for employees in need of support, due to extraordinary financial hardship directly related to the COVID-19 pandemic. "I want to thank you, donors, from the bottom of my heart for your selfless act," writes one employee, a single mother who is helping support a newly unemployed family member. "This grant will help me and my family tremendously!"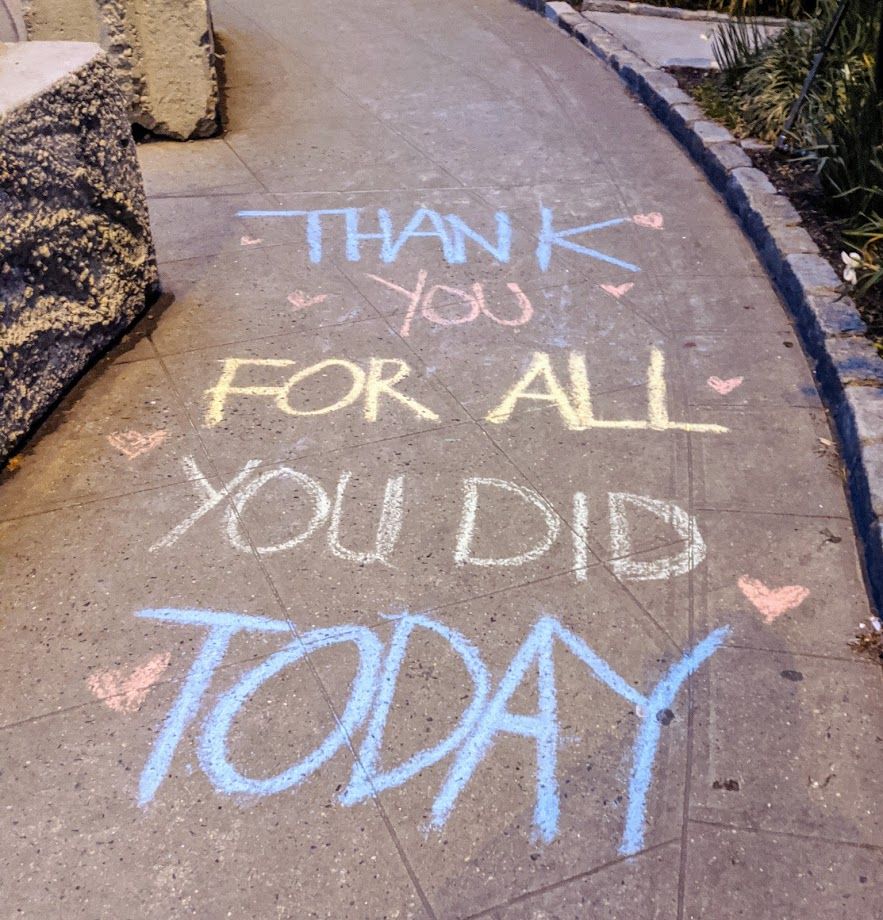 In March, the Partners of Citadel and Citadel Securities – led by CEO and longtime Weill Cornell benefactor
Kenneth C. Griffin – made a $2 million gift to Weill Cornell Medicine to develop new approaches to test and protect people from the novel coronavirus.
Some donors have found creative and entertaining ways to raise money for Weill Cornell patients and staff. An organized virtual indoor stationary-bike ride for 1,300 people in mid-April raised funds for front-line staff. Earlier in the month, the Tangiers Blues Band, with guest guitarist Gary Clark Jr., streamed a virtual benefit concert to raise funds for Weill Cornell. Rolling Stone magazine called the show, which attracted 27,000 viewers, one of the best-streamed performances of the stay-at-home era. More recently, Weill Cornell participated in Giving Tuesday Now, a global day of giving and unity, inviting people to donate to COVID-19 efforts and submit thank you notes to front-line staff.
"Our community has truly come together to show its support for the doctors, nurses and staff of Weill Cornell, who are working tirelessly to save lives," says Jessica Bibliowicz, chairman of the Board of Overseers. "Their gifts will ensure that we emerge from this unprecedented crisis stronger than ever."
Download Milestones Issue:

Milestones May 2020