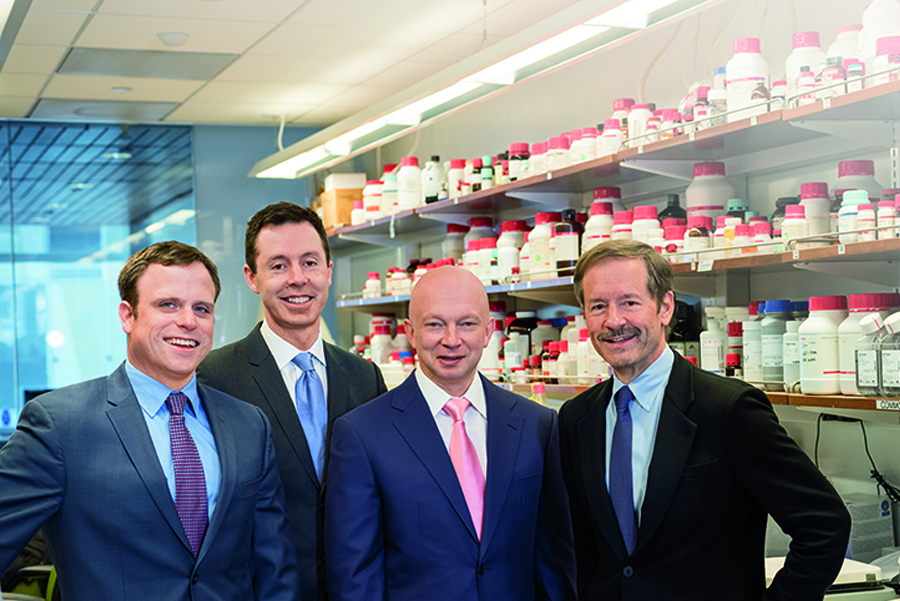 A bold, new initiative made possible by a generous gift from Overseer Igor Tulchinsky will enhance the diagnosis and treatment of a variety of illnesses, including cancer, infectious diseases and a range of neurological disorders.
Mr. Tulchinsky's gift of $5 million, made through his company, WorldQuant, LLC, will establish the WorldQuant Initiative for Quantitative Prediction at Weill Cornell Medicine, a biomedical research initiative that will function in collaboration with scientists and physician investigators at the Caryl and Israel Englander Institute for Precision Medicine and the Sandra and Edward Meyer Cancer Center.
The initiative aims to expand current strategies used in precision medicine by combining state-of-the-art molecular profiling technologies with advanced financial algorithms and computational methods, creating personalized disease and health models that will optimize treatment for patients.
The program will be co-directed by Dr. Christopher Mason, the WorldQuant Foundation Research Scholar and associate professor of physiology and biophysics, and Dr. Olivier Elemento, the Walter B. Wriston Research Scholar and associate professor of physiology and biophysics. Drs. Mason and Elemento are longstanding collaborators and colleagues; with this gift, they plan to pioneer new algorithms and technologies that will broaden the scope of personalized medicine.
"This extremely creative gift will accelerate and expand Weill Cornell Medicine's approach to precision medicine, providing new predictive tools that will lead to even better outcomes for patients," says Jessica Bibliowicz, chairman of the Board of Overseers. "We are very grateful to Igor Tulchinsky and WorldQuant, LLC for making this initiative possible."
Although the worlds of finance and medicine may appear vastly different, both fields use "big data" to discover important patterns, observes Mr. Tulchinsky. He first became intrigued by the potential application of digital data to enhance biomedical research several years ago. In 2014, he established the WorldQuant Foundation Research Scholar Award, at Weill Cornell Medicine, currently held by Dr. Mason.
"Interestingly, it is likely that the types of computing needed to analyze big data and solve certain complex problems – whether they're related to changing consumer needs or variabilities in tumor cells – may be converging,'' says Dr. Lewis Cantley, the Meyer Director of the Meyer Cancer Center and professor of cancer biology in medicine. "Mr. Tulchinsky realizes the importance of developing this technology, and this very generous gift will accelerate our momentum in this highly competitive and rapidly moving area of cancer research."
"We are looking forward to using the tools and methods that will spring from this philanthropic investment to tease apart cancer cells' secrets and create predictive models of health for patients," says Dr. Mason, who, along with Dr. Elemento, is associate professor of computational genomics at the HRH Prince Alwaleed Bin Talal Bin Abdulaziz Al-Saud Institute for Computational Biomedicine. "Not only does this gift enable new science and predictive models in medicine, it also creates an unprecedented collaboration between Weill Cornell Medicine and WorldQuant."
WorldQuant, an international quantitative investment management firm founded by Mr. Tulchinsky, who is chairman and CEO, uses proprietary algorithms to develop investment strategies. "There is a great opportunity to take the technologies we've been developing and using in finance, and apply them in other areas, particularly in predictive medicine and cancer, where the stakes are so high," Mr. Tulchinsky says.
By converging quantitative finance and precision medicine, the new initiative will allow for "unprecedented predictive analytics of disease,'' says Dr. Elemento. "This incredibly generous gift will likely spur a whole new generation of biomedical discoveries by helping bring predictive disease analytics to precision medicine."
"The use of quantitative prediction for patients represents an important new tool at Weill Cornell Medicine," says Dr. Augustine M.K. Choi, the Stephen and Suzanne Weiss Dean. "We appreciate Mr. Tulchinsky's generosity, which will help us achieve new goals in the constantly evolving field of precision medicine."
Mr. Tulchinsky, who joined the Board of Overseers earlier this year, says he looks forward to witnessing the exciting advances that will emerge as a result of the new initiative.
"I predict – and this is our first prediction – that we're going to achieve great things here,'' he says.
Download Milestones Issue:

Milestones May 2017