Ways to Give explores the many ways our donors help Weill Cornell Medicine advance breakthroughs in research, provide compassionate care to patients and educate the next generation of medical leaders. Through a variety of programs, every donor is able to make a powerful impact. To learn more about giving opportunities, please visit give.weill.cornell.edu.
Weill Cornell Medicine has been at the front lines of the COVID-19 crisis since it began in New York, providing compassionate care to patients and launching research efforts to address testing and treatment. These efforts have been supported through two funds: the COVID-19 Emergency Response Fund and the COVID-19 Fund to Support Frontline Staff.
The Emergency Response Fund supports the expansion of Weill Cornell's research studies and clinical trials, including our testing capacity and strategies, as well as the purchase of medical equipment that can provide fast and accurate results. Gifts to this fund also protect the health and safety of Weill Cornell Medicine physicians and medical staff by helping to provide personal protective equipment (PPE), including surgical masks, respirators, gowns, gloves, visors and other essential supplies.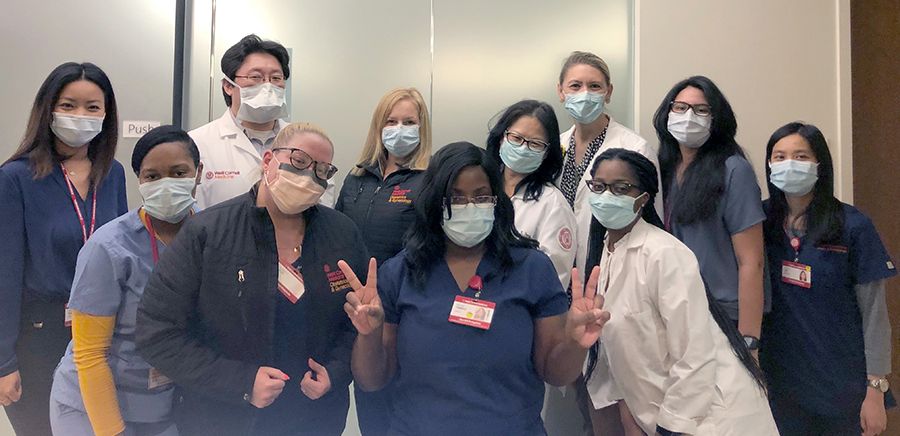 The Fund to Support Frontline Staff helps provide free meal delivery and childcare services for our clinical staff working on the front lines in the ICU, Emergency Department, testing labs, and other units and practice sites.
Weill Cornell Medicine is leading in the global effort to end the coronavirus pandemic, mobilizing every resource to expand knowledge of COVID-19 and apply it successfully at the front lines of care. Weill Cornell Medicine has seen a tremendous outpouring of generosity and encouragement across our community, and we thank everyone for joining us in these efforts. We are stronger together.
For information about funding our COVID-19 response efforts, please contact Rebecca Rutherfurd, Director, Fundraising Strategies and Capital Campaigns, at rlr4001@med.cornell.edu.