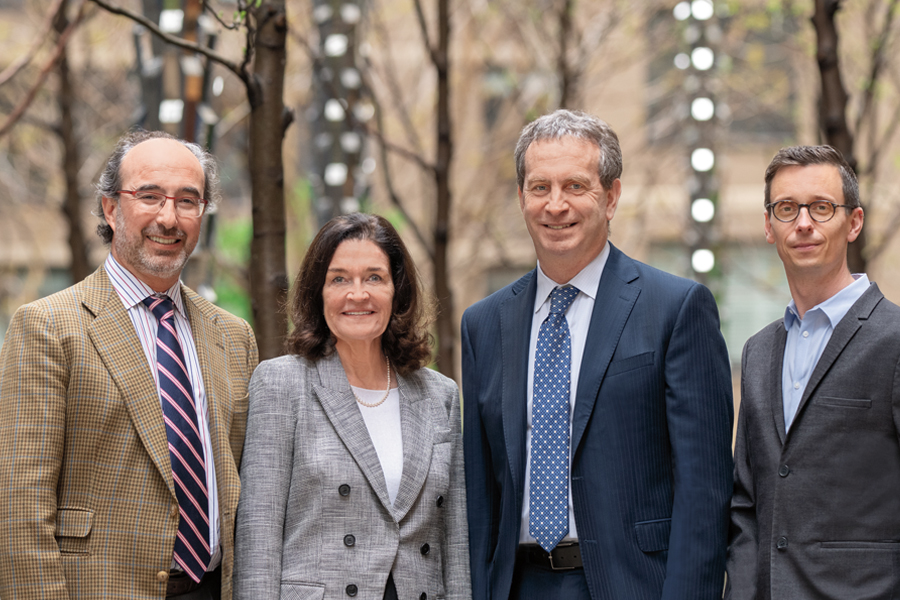 Bolstered by the generous support of donors, Weill Cornell Medicine has experienced dramatic growth in its research enterprise over the past five years – an achievement that advances the institution's goal of providing patients with the most advanced treatments and therapies.
Biomedical investigators at Weill Cornell are targeting some of the most formidable health challenges of the 21st century, seeking to translate breakthrough discoveries into cutting-edge treatments. Increased collaboration between researchers and clinicians is helping accelerate the development of new diagnostics and therapies to benefit patients.
Since 2014, Weill Cornell Medicine's research funding from the National Institutes of Health (NIH) has surged more than 40 percent. This expansion in the research enterprise coincides with the opening of the Belfer Research Building, which serves as the hub for the institution's translational research efforts and has led to the recruitment of more than 40 accomplished biomedical researchers to augment the thriving community of existing faculty.
U.S. News & World Report's 2019 top-10 ranking of Weill Cornell Medicine in its Best Medical Schools for Research underscores the institution's continued excellence in its research and educational ventures. Since its inception in 1898, Weill Cornell Medicine has cultivated a reputation as a leader in biomedical education, consistently attracting the highest caliber of students.
"We are extremely proud of our outstanding clinical, research and education programs,'' says Dr. Augustine M.K. Choi, the Stephen and Suzanne Weiss Dean of Weill Cornell Medicine. "All of our endeavors are guided by the essential principle to improve the health and lives of our patients. Weill Cornell Medicine is at the forefront of this work, and I look forward to seeing what more we can accomplish together."
The Belfer Research Building – named in honor of Overseer Vice Chair Robert Belfer and his wife, Renée – offers state-of-the-art laboratory space on East 69th Street for some of the world's leading scientists to engage in high-impact research at Weill Cornell. It headquarters numerous interdisciplinary centers and institutes whose fundamental and translational research activities receive consistent grant support.
To advance these and other programs, Weill Cornell Medicine has recruited prominent investigators whose innovative research attracts NIH funding and recognition.
In the Joan and Sanford I. Weill Department of Medicine, the institution's largest clinical and research-focused department, Dr. Anthony Hollenberg – a leading endocrinologist and researcher who joined the institution as chairman of the department in February 2018 – has recruited numerous eminent physician-scientists to drive research discoveries that will make an impact on patients' lives. They include: HIV researchers Dr. Douglas Nixon, who was recruited as a professor of immunology in medicine, and Dr. Brad Jones, who was recruited as an assistant professor of immunology in medicine; Dr. Sara Czaja, a professor of gerontology in medicine and the inaugural director of Weill Cornell Medicine's newly established Center on Aging and Behavioral Research; and Dr. Manuel Hidalgo, a physician-scientist who specializes in pancreatic cancer and drug development, who will soon join the department as chief of the Division of Hematology and Medical Oncology.
Weill Cornell's longstanding commitment to training physician-scientists has yielded a robust pipeline of future leaders in academic medicine. The institution is ranked first in the country for its proportion of medical-school graduates who become full-time faculty, according to the Association of American Medical Colleges. Twelve percent of its graduates are MD-PhD students, more than any other graduate school in the country.
Weill Cornell Medicine also strives to foster an entrepreneurial spirit among its faculty, trainees and students, teaching them how to translate their research findings into new treatments and providing them with abundant resources. Since 2014, there has been a 35 percent increase in the number of Weill Cornell Medicine investigators who receive NIH funding.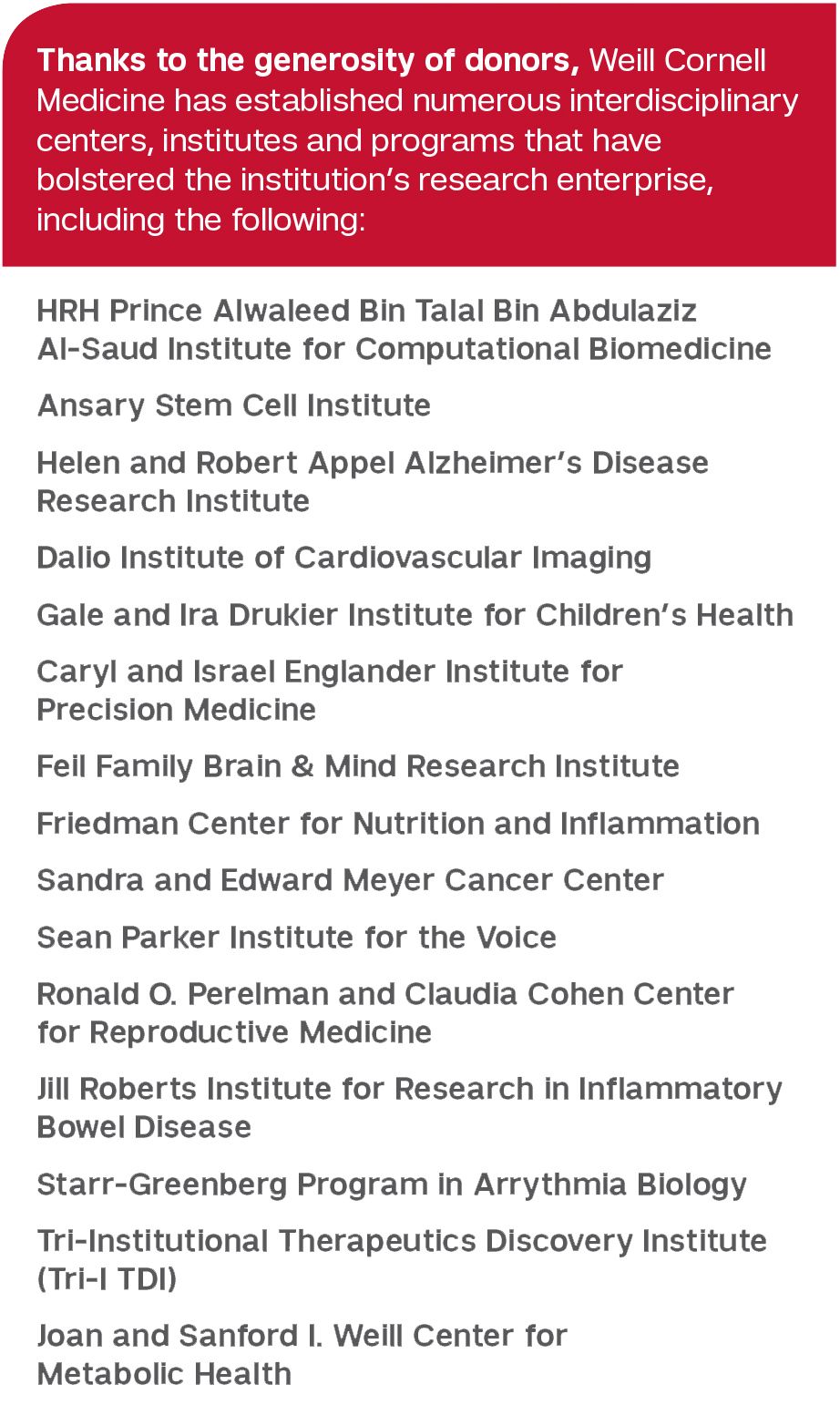 In collaboration with Memorial Sloan Kettering Cancer Center and The Rockefeller University – and with extraordinary donor support – Weill Cornell Medicine in 2013 established the Tri-Institutional Therapeutics Discovery Institute (Tri-I TDI). A drug-discovery incubator headquartered in the Belfer Research Building, Tri-I TDI helps transform fundamental discoveries into promising therapies for patients. The Daedalus Fund for Innovation, an initiative launched in 2014 – and supported entirely by philanthropy – has also made a significant impact on the advancement of cutting-edge therapies from bench to bedside, providing essential funding for early-stage research with significant promise for patients.
Located in the world's premier healthcare corridor, Weill Cornell Medicine enjoys robust research collaborations with some of the best academic medical institutions in New York City – including NewYork-Presbyterian, Memorial Sloan Kettering Cancer Center, The Rockefeller University and Hospital for Special Surgery – as well as with many of its other partners and affiliates around the globe.
"As we reflect on our profound growth, we will continue to focus on building our research enterprise and translating those discoveries into successful new treatments for patients," says Jessica Bibliowicz, chairman of the Board of Overseers. "Thanks to the generosity of our donors, we are leading the way in forging a new model of academic medicine for the 21st century.''
Download Milestones Issue:

Milestones May 2019