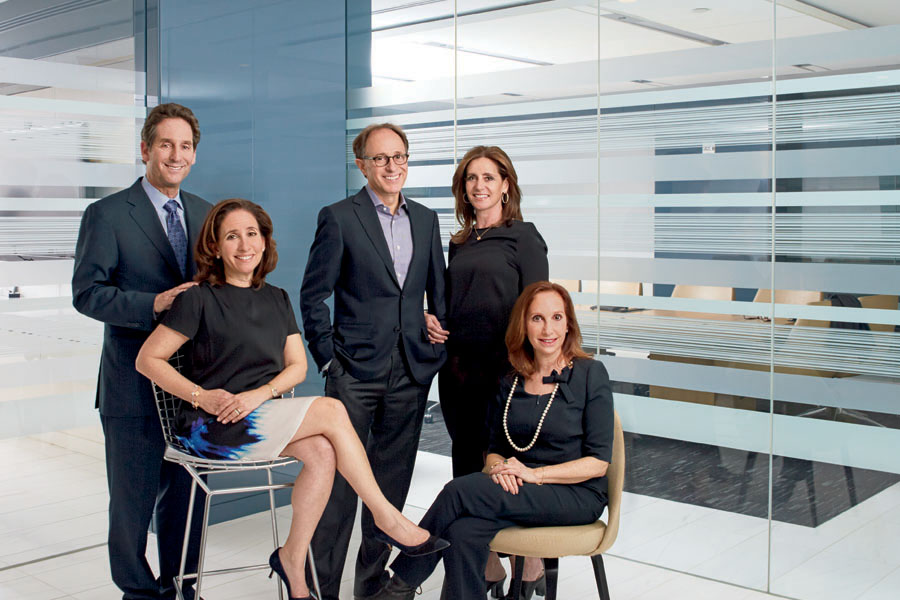 Throughout their childhood, Lenore Ruben, Richard Ruben and Shelly Kivell experienced philanthropy in action firsthand. Their parents, the late Selma and Life Overseer Lawrence Ruben, and grandparents, Rochelle and Arthur Belfer, were deeply committed supporters of Weill Cornell Medicine, in addition to a variety of causes throughout New York City.
"Giving back has been a value in our family that's been passed down," says Mrs. Kivell, who serves on the Dean's Council with husband Dr. Howard Kivell and sister Lenore Ruben.
Well-known for their long-term involvement and generous philanthropy, the siblings have followed in their family's footsteps as the third generation to give to Weill Cornell – an institution they consider a part of their family. Building on their family's legacy of support, Lenore Ruben, Overseer Richard and wife Amy Ruben, and Shelly and Dr. Howard Kivell, have established the Selma and Lawrence Ruben Science to Industry Bridge Fund, in honor of their parents, with a new gift of $5 million.
Organized under the three-year-old Daedalus Fund for Innovation, the Selma and Lawrence Ruben Bridge Fund will provide funding to span the development gap between promising research ideas and partnership with industry to develop clinical treatments.
"Our goal is to accelerate the development of new cures and therapies for patients to alleviate suffering and improve patient care," says Larry Schlossman, who manages the Daedalus Fund and serves as managing director of BioPharma Alliances and Research Collaborations at Weill Cornell Medicine.
"Building relationships and fostering translational research alliances with industry is vital to achieving this core mission."
The Selma and Lawrence Ruben Bridge Fund will distribute two research awards annually for  20 years. These awards will have a significant and long-term effect on researchers' ability to advance innovative ideas with the potential to transform patient care.
"It appeared to us that there was a critical gap in research that needed philanthropic support. It's hard to move promising research beyond the lab and kick-start the commercialization process. That's where this gift is focused," says Mr. Ruben, who has been a member of Weill Cornell's Board of Overseers since 2012. "There's no government funding for this critical phase. There's no venture capital funding and there's no pharma funding yet. But something has to get research and groundbreaking discoveries beyond the lab."
The Ruben family connection to Weill Cornell Medicine dates back to the 1950s, when Arthur and Rochelle Belfer became patients of the late  Dr. Rees Pritchett, (MD '48), a renowned Weill Cornell Medicine physician and alumnus. Dr. Pritchett's warm demeanor and compassionate patient care made him a trusted family physician and friend. In the 60-plus years since their introduction, several significant gifts have been made by the Ruben and Belfer families to shape the institution.
"We continue to be amazed by the generosity and dedication of the Ruben family," says Dr. Augustine M.K. Choi, the Stephen and Suzanne Weiss Dean of Weill Cornell Medicine. "This gift is a tremendous step toward our innovation and entrepreneurial goals here at Weill Cornell. The Ruben family legacy is an incredible example of how deeply philanthropy can impact an institution and its patients."
The Ruben family's experience with medical research and clinical trials guided their decision in giving, as they carefully considered how to make a lasting impact in their parents' honor. Their mother, Selma, who passed away in 2002, underwent experimental cancer therapies in the final stages of her life.
"We saw the power of research and the attempt to bring what everyone hoped to be effective treatments for otherwise incurable diseases to more patients," says Mr. Ruben.
Their father, Lawrence Ruben, passed away in July 2016. Selma and Lawrence Ruben's belief in the importance of medical research influenced the siblings' desire to support and accelerate qualified research projects across a spectrum of diseases.
"When innovative research is capitalized more generously, which is what the Ruben gift has now accomplished, it can allow a larger number of high-risk ideas to be selected, including some that take up to two years to test. Those projects are often the ones with a bigger downstream impact," says  Dr. Carl Nathan, the Rees Pritchett, MD, Professor of Microbiology, a position endowed by the extended Belfer family. "I can't emphasize enough  how valuable this kind of expertly reviewed special support is to fulfilling  our mission."
Jessica Bibliowicz, chairman of Weill Cornell Medicine's Board of Overseers, recognizes the Ruben family's commitment over the decades. "We are so grateful to the Ruben family for such a generous contribution. Larry and Selma Ruben were held in such high esteem in the Weill Cornell community, I know they would be very pleased with this meaningful expression of support."
The siblings agree that their parents would be very proud of this new gift made in their memory.
"I hope there will be a drug that comes out of this that will have an impact and better people's lives," says Mrs. Kivell. "It's rewarding when your philanthropic dollars can be directed in a purposeful way."
Lenore Ruben agrees. "To be able to be part of something that has the potential to provide patients with better outcomes is incredibly gratifying."
Download Milestones Issue:

Milestones September 2017