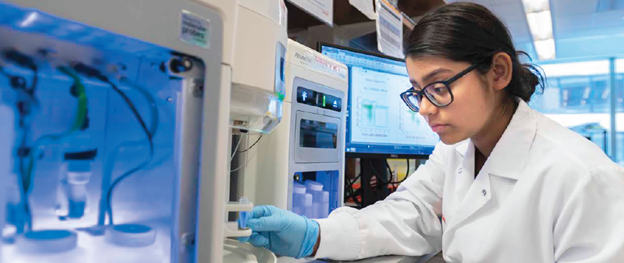 Many extraordinary medical achievements of the past decade have changed countless lives. Perhaps you know a friend who has received immunotherapy for a specific cancer previously deemed untreatable, or you have a family member who has received life-changing robotic surgery and is left without even a noticeable scar. Each of us knows someone who has benefited from groundbreaking scientific discoveries. At Weill Cornell Medicine, we are here to empower your care with the latest advances in scientific research and are committed to enhancing our research program to ensure the best possible treatments for our patients. 
We are on the precipice of a vital transformation in biomedical research. Incredible innovations in genomics, precision medicine and computational biology promise unheard of potential to diagnose, treat and perhaps even prevent certain cancers, metabolic disorders, pediatric illnesses and a host of other formidable diseases.
Our world-class physicians and scientists recognize that the moment to expand our research enterprise and revolutionize the medical landscape is now – and we have a robust vision that is embodied in the We're Changing Medicine campaign. Research has long been a cornerstone of our success as one of the nation's leading academic medical centers. Throughout Weill Cornell Medicine's history, our researchers have made groundbreaking medical and research advances from the Pap test for cervical cancer in the 1940s, to the first "double-blind" controlled experiment to test the efficacy of drugs, and the synthesis of penicillin and of the hormone oxytocin that is crucial to childbirth. These discoveries have had a monumental impact on patients around the world. And we have not slowed down.
Today, our multidisciplinary team of researchers continues to work tirelessly to push the boundaries of scientific discovery and translate laboratory discoveries into innovative treatments and therapies for patients. We incorporate the latest genomic technologies and computational methods and use state of-the-art tools to solve some of the biggest scientific questions of our time. Recent research areas at Weill Cornell Medicine include patient-centered studies such as: cardiovascular health and atrial fibrillation, cancer development and immunotherapy, the important role of gut bacteria in the body, identifying new treatment targets for Alzheimer's disease and other forms of dementia and, most recently, the long and short-term implications of COVID-19. We currently have more than 524 clinical trials, 87 biobanks and registries, and 1,066 ongoing research studies.
A Foundation of Excellence in Research and Clinical Care
Over the past 25 years, the researchers at Weill Cornell Medicine have laid a foundation for future exponential growth of our institution and positioned us as a visionary leader in medicine. During this time, many new centers and institutes have been formed (see sidebar), and we now have more than 40 organizational entities engaged in research aimed to create lasting change in scientific discovery and patient care. In just the last five years alone, our institution has witnessed explosive growth of its scientific expertise, with 450 principal investigators at the institution, including 279 supported with National Institutes of Health (NIH) funding.
Weill Cornell Medicine now has an ambitious plan to change medicine, built on decades of success. "We will make significant investments to recruit and retain leading investigators from around the world, develop advanced technology for precision health and expand state-of- the-art laboratory spaces across disease areas," says Dr. Hugh Hemmings, senior associate dean for research. "In addition, we will continue to expand our clinical research programs, a critical tool in bringing more treatments to our patients as quickly as possible."
Investments in our research enterprise will also help drive new and more effective ways to prevent and treat disease, address disparities in the communities we serve, enable patient access to cutting-edge research, and support our education mission for current and future clinical researchers.
Clinical Research Expansion and Precision Health
Our team of clinical researchers at the Englander Institute for Precision Medicine, and throughout our institution, are working to seamlessly bring together diverse streams of a patient's vital information history, spanning genomics, social determinants of health, environmental exposures, electronic health records and wearable device data. Our goal within the next decade is to make these strategies a routine part of health care – furthering our quest to dramatically improve the wellbeing of patients around the world. 
Key research institutes and centers established during the past 25 years:
Ansary Stem Cell Institute

Helen and Robert Appel Alzheimer's Disease Research Institute

Cardiovascular Research Institute

Gale and Ira Drukier Institute for Children's Health

Englander Institute for Precision Medicine

Feil Family Brain and Mind Research Institute

Friedman Center for Nutrition and Inflammation

Hartman Institute for Therapeutic Organ Regeneration

Sandra and Edward Meyer Cancer Center

Jill Roberts Institute for Research in Inflammatory Bowel Disease

Joan and Sanford I. Weill Center for Metabolic Health
Over the last 20 years, our physician-scientists have made many important breakthroughs in the development – and use – of technology. Expanded technology gives us the ability to use our patients' unique genes, social environments and lifestyle choices to formulate better prevention and treatment strategies. Our diverse patient base enables us to do what few other institutions can: create individual treatment strategies that are more effective and curative.
"By investing in cutting-edge technology and new biomedical approaches – from genomics and data science to artificial intelligence and machine learning – we can illuminate the precise origins of disease and the most optimal ways to personalize treatments," says Dr. Augustine M.K. Choi, the Stephen and Suzanne Weiss Dean of Weill Cornell Medicine. "Our scientists harness advanced research techniques that explore the human genome, and include observations about how demographics, social influences and lifestyle choices influence well-being. With this work, we can create a robust precision health enterprise that will holistically evaluate the individual factors that underlie disease development."
By understanding the drivers of disease, Weill Cornell Medicine physicians and scientists, including those based in the Meyer Cancer Center and the Englander Institute for Precision Medicine, will be able to discern each person's individual health risk, create personalized prevention strategies and help avert the occurrence of severe disease.
Further investments in regenerative medicine and cellular therapeutics will rapidly accelerate the discovery of new treatments and therapies, enabling patients to benefit from the latest medicines should they need intervention. Data generated from precision health approaches will enable investigators to spot patterns and trends – and potentially uncover the answers to the most vexing health care questions.
Building the Future of Medicine
"A critical part of our commitment to building our research is a robust infrastructure that enables game changing breakthroughs that impact the lives of the people and communities we serve," says Dean Choi. 
Over the past two decades, we have greatly expanded our laboratory space and enhanced our technology to meet the changing needs of medicine and health care. In that time, we erected the award-winning 330,000 square foot Weill Greenberg Center to meet our ever-growing clinical needs and established the state-of-the-art Belfer Research Building, with 13 floors of laboratories and collaborative research hubs to help speed newly discovered therapies to patients.
In the next decade, we plan to build critical, new, cutting edge research space as well as expand on existing lab spaces at both the Belfer Research Building and 1300 York Avenue.
Our entire spectrum of foundational, translational and clinical research at Weill Cornell Medicine will be supported through these renovations of existing lab spaces and the creation of new labs that span disease areas and support research in many of our departments, divisions, institutes and centers. Providing the latest, most advanced research and care means having the facilities and spaces to match.
Behind every life-saving treatment is a robust continuum of research rooted in the foundational sciences, expanded in translational research and rigorously tested through clinical research and clinical trials.
Foundational research helps scientists understand living systems and life processes, which leads to better ways to predict, prevent, diagnose and treat disease.
Translational research takes discoveries made in the laboratory, in the clinic or out in the field and transforms them into new treatments and approaches to medical care.
Clinical research looks at better ways to prevent disorders by studying the impact of medicines, vitamins, vaccines and lifestyle changes – both on individual patients and within larger populations.
The We're Changing Medicine Campaign
When we launched our We're Changing Medicine campaign in 2021, we did so with a powerful goal – to transform the medical landscape globally. The $1.5 billion fundraising campaign – the largest and most ambitious in Weill Cornell Medicine's long and accomplished history – has created a specific blueprint to fuel remarkable advances across our mission, providing unparalleled clinical care, superb medical education and, especially, research advances that will re-imagine medicine going forward. Our vision requires a significant expansion of research in cancer, brain health, cardiometabolic research, children's health, lifespan, and women's health – and we are well on our way.
This story can be found in the

Partners in Medicine Fall 2022 issue.