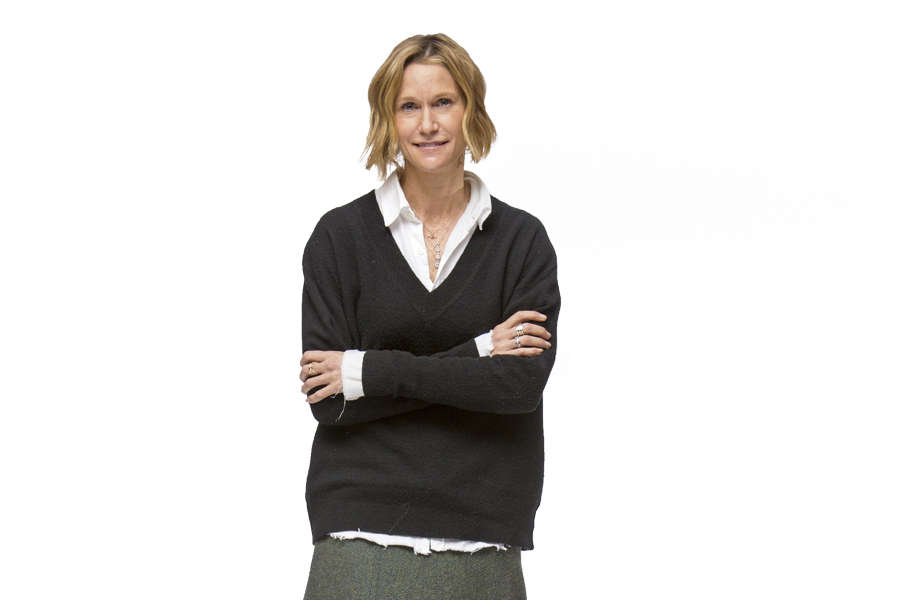 Over the past five years, Christina Truesdale and her husband, Don, members of the Dean's Council since 2013, have made significant gift s to Weill Cornell Medicine, aimed at supporting innovative research to improve pediatric clinical care. The couple's most recent gift, however, was directed to the Children's Health Investigators Fund, which provides support for pediatric research at Weill Cornell. Research studies currently funded by this eff ort include youth anxiety disorders, protecting newborns from infection, and exploring links between obesity and asthma in children and adolescents.
Christina serves as the founding chair of the Children's Health Council, a growing group of committed families and individuals dedicated to increasing awareness of and raising money for pediatric research. As a parent of three, she knows the importance of happy and healthy children. Her enthusiasm and passion for children's health and education have inspired her philanthropy at Weill Cornell and across New York City.
Christina recently sat down with Mark Veich, Vice Provost for External Affairs, to speak about the importance of philanthropy and her inspiration for giving.
MV: How did you first become involved with Weill Cornell Medicine?
CT: My introduction to Weill Cornell Medicine was as a patient. I had wonderful experiences giving birth to my three children, Camilla, Calder and Capri, at NewYork-Presbyterian/Weill Cornell Medical Center. Then, five years ago, my mother passed away from ovarian cancer after a frustrating experience at a different hospital with little support, guidance and answers. Because I'd had such a positive and warm experience at Weill Cornell and had seen how difficult healthcare could be, I decided to get involved. I wanted to help give patients that warm, positive experience I had.
MV: You and Don have made gifts specifically toward children's health initiatives. What inspired you to give to this cause?
CT: Don and I enjoy supporting organizations that focus on education and making an impact on the lives of children. Being a parent opens your eyes to the challenges children face in healthcare, and the conditions and illnesses that require continued support for research.
Children are the future and education is a critical part of ensuring that they are prepared to lead productive, fulfilling lives. Without good health, it's difficult to build a solid foundation for children to excel mentally, physically and socially. By supporting Weill Cornell Medicine and its efforts in healthcare, research and education, we're able to make an impact to help ensure that all children have the ability to build that healthy foundation. I hope that our eff orts will benefit families around the world.
MV: Through your experiences here, and with other organizations, what do you believe inspires people to give?
CT: I think people genuinely enjoy helping others and they choose causes that are important to them and they can relate to personally. Giving to Weill Cornell Medicine inspires me because I have the opportunity to see precisely how my gift is being used.
Through the many presentations by doctors and researchers that supporters are invited to, we are able to hear about all kinds of medical advances and discoveries, as they are happening.
I think people are inspired by learning firsthand how their money is making an impact on the lives of others.
MV: As chair of the Children's Health Council, you're at the helm of a dedicated group focused on children's health research. What do you hope the Children's Health Council will accomplish?
CT: I'm honored to serve as inaugural chair of the Children's Health Council, which is such a passionate group. I continue to be inspired by the dedication and excitement of the council's leadership, executive committee and members. They all understand how imperative it is to support the well-being of children so they can grow into health-conscious and knowledgeable adults. Our goal is to support children's health research, and by educating people about the need for funding, we hope to inspire more people to join us in that support. At Weill Cornell Medicine, children's health research focuses on individualized therapies, which I believe is the future of medicine. Children are not all alike, and their medical problems should not all be treated the same way. Without good health, nothing else really matters. Giving to children's health research is an investment in the next generation, and I know our council will continue to make a significant impact.
MV: What have you found most valuable in your time with Weill Cornell Medicine?
CT: I find the warm, inviting community of Weill Cornell Medicine invaluable, and Don and I are happy to be part of the Weill Cornell family. The doctors, researchers, scientists and medical students are brilliant, yet humble, and even with their busy schedules they make time to come to meetings, discussions and events. We have the opportunity to learn firsthand about the cutting-edge research being done to benefit people across the globe.
I am truly amazed at how much I learn from every Children's Health Council or Dean's Council meeting I attend.
MV: What do you feel are the greatest opportunities at Weill Cornell Medicine right now?
CT: I'm grateful to be part of this incredible community of donors, scientists and doctors. As a global leader in academic medicine with a first-class team of experts, Weill Cornell has the ability to change the world. The work being done here is groundbreaking, and by continuing along this path of excellence, this institution will be at the forefront of revolutionizing medicine.