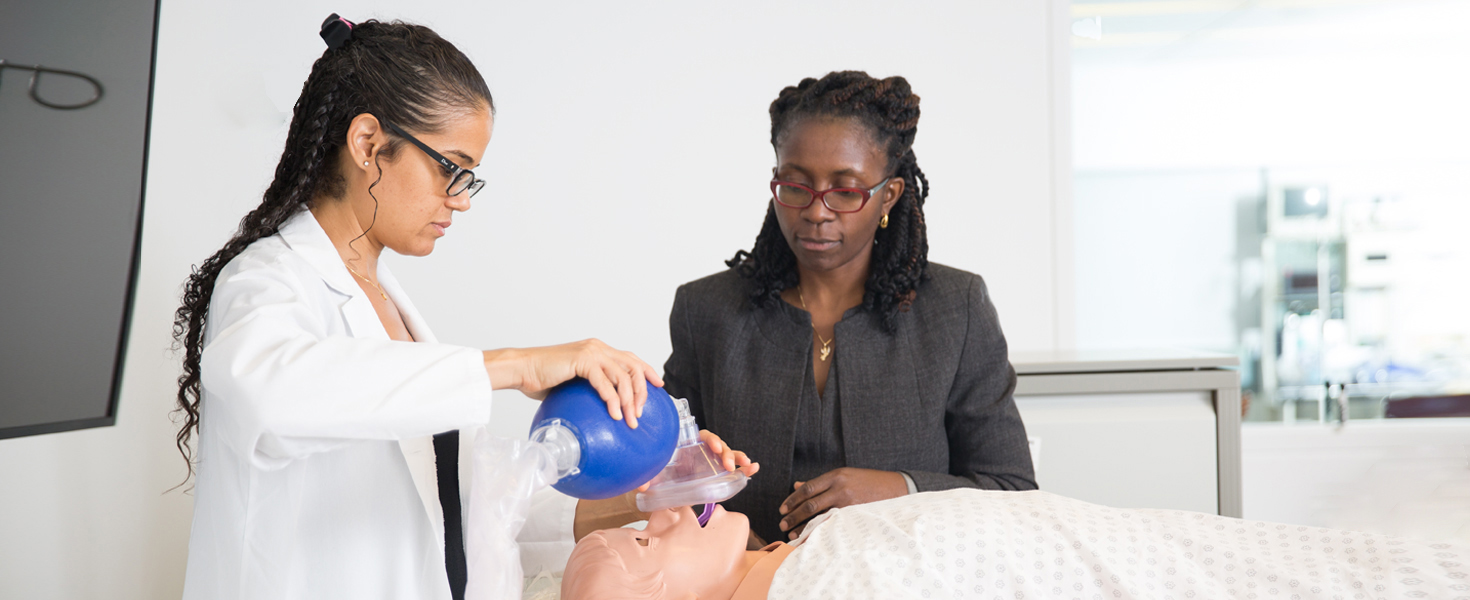 From left, Francesca Voza, MD '20, with Dr. Joy Howell, assistant dean for diversity and student life and
professor of clinical pediatrics at Weill Cornell Medicine
With the goal of establishing mentorship and inclusion standards in academic medicine and health care, a generous $5 million grant from the Mastercard Impact Fund will fund the launch of a suite of innovative programs to foster and sustain a more diverse faculty at Weill Cornell Medicine. The Diversity-Mentorship Collaborative program will also enhance opportunities for more inclusive access to professional tracks in research and help cultivate and mentor promising candidates from populations underrepresented in medicine (also known as URiM).
"At Mastercard, we're working hard on building a culture that celebrates what you do and how you do it, not what you look like or where you come from," says Ajay Banga, executive chairman of Mastercard and a member of the Weill Cornell Medicine Board of Fellows. "That's how we not only protect ourselves from blind spots, it's how we drive inclusive innovation that responds to the communities we live and work in and supports them. But building out that culture takes time and a thoughtful approach. It is an honor to support Weill Cornell Medicine on a parallel journey to develop first-in-class diversity and mentorship programs that will enhance access to high quality and equitable health care for all."
Diversity and mentorship are cornerstones of Weill Cornell Medicine's future success, emphasizes Dr. Augustine M.K. Choi, the Stephen and Suzanne Weiss Dean of Weill Cornell Medicine.
"At Weill Cornell Medicine, we have established diversity and mentorship as chief priorities and fundamental pillars of our institution's mission, developing numerous, robust initiatives geared toward increasing representation and nurturing talent in medicine," says Dean Choi. "We are profoundly grateful to Mastercard for this generous grant, which will enable us to further cultivate generations of exemplary health care leaders whose diverse backgrounds and experiences will serve to advance patient care and medical research."
The Diversity-Mentorship Collaborative will oversee four key faculty diversity and mentorship initiatives:
Mastercard Faculty Diversity Incentive Program will offer salary support for up to two new URiM faculty recruits per year for their first two years at the institution. Faculty who are supported through this initiative will also participate in mentoring programs.
Mastercard Pilot Grant Program will provide up to two years of competitive funding to URiM faculty with promising research projects – allowing them to balance their clinical responsibilities with time in the lab and providing the opportunity to collect preliminary findings for National Institutes of Health career development grants.
Mastercard Research Assistance for Primary Parents Program will allow faculty engaged in research who are also primary caregivers in their household to apply for funding for research assistance. The goal of this initiative is to help faculty members with the challenges of balancing the research demands and family commitments often felt by young, predominantly female faculty.
Mastercard Mentoring Program will seek to enhance and sustain a culture of mentorship at Weill Cornell Medicine so that all junior faculty will have access to professional career-building connections.
In addition to addressing the critical need to recruit and promote more diverse faculty, the grant will also help Weill Cornell Medicine standardize and expand its faculty mentoring curriculum.
"For faculty members who are underrepresented in medicine or face challenges as the primary parent in their household, building strong mentor relationships can provide them with a model for their own career path's potential," explains Dr. Katherine Hajjar, senior associate dean for faculty, Brine Family Professor of Cell and Developmental Biology, professor of pediatrics in medicine, professor of pediatrics and co-director of the new Diversity- Mentorship Collaborative. "With Mastercard's support, these programs will allow us to recruit more diverse faculty, nurture their careers and help foster their successes in academic medicine and healthcare."
The Collaborative will be administered jointly by Weill Cornell Medicine's Office of Diversity and Inclusion and the Office of Faculty Development, under the direction of Dr. Hajjar and Dr. Said Ibrahim, senior associate dean for diversity and inclusion and chief of the Division of Healthcare Delivery Science and Innovation. Together, they will convene an advisory committee that will include senior Weill Cornell Medicine faculty and a representative from Mastercard.
"These programs will level the field for all faculty, in both clinical care and research," says Dr. Ibrahim. "We are incredibly thankful for Mastercard's support in helping us achieve our goals."
Download Milestones Issue:

Milestones March 2021