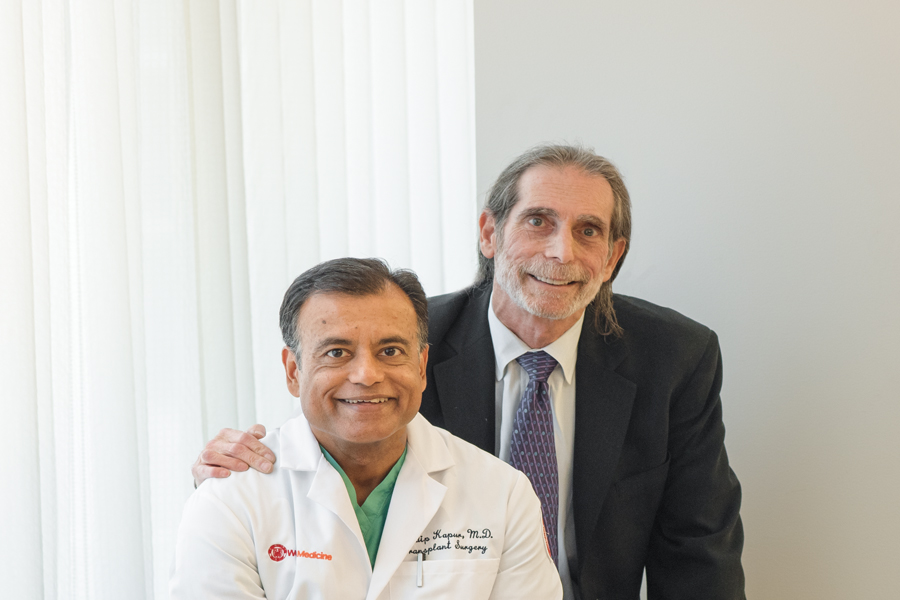 Dr. Sandip Kapur and Jeffrey Lasdon
After losing one kidney to cancer in 2000, Jeffrey Lasdon learned a few years ago that his other kidney had stopped functioning. He signed up for the organ donation waiting list in New York, but knew his chances of receiving a kidney were slim. Fortunately, his cousin, Jan Fried, came to the rescue at the eleventh hour.
"We grew up together and were very close. I got a call from Jan when I only had a few days left, and she said, 'I have something you want!'" Mr. Lasdon says. "She actually had gotten screened and found out we were a perfect match without even telling me."
Mr. Lasdon considers Sandip Kapur, MD '90, director of the Kidney and Pancreas Transplant Programs at NewYork-Presbyterian/Weill Cornell Medical Center, who performed his transplant surgery, a hero. And as a way to show his gratitude, Mr. Lasdon and his wife, Jeanette, decided to contribute $2 million to Weill Cornell Medicine in order to recognize Dr. Kapur for his extraordinary care. The endowed gift will establish the Jeanette and Jeffrey Lasdon Director of the Kidney and Pancreas Transplant Programs.
"You can't put a price on the leading-edge surgery done at Weill Cornell Medicine. Their quality of care is incredible and we wanted to help keep that going," says Mr. Lasdon.
Mrs. Lasdon, who is a cancer survivor herself, added that their gift was also inspired by the nurses at the medical center who they have encountered along the way. "They are the unsung heroes, really," she said. "We've had some great experiences with nurses. When the battle gets tough, they're the ones who are always with you."
Mr. Lasdon's family have been ardent supporters of Weill Cornell Medicine since the late 1940s. His parents, Stanley and Gene Lasdon, were dedicated supporters of the institution for as long as he can remember (the Stanley Lasdon Teaching Labs are named for Jeff's father, for example), and instilled in him the value of philanthropy at an early age. Names of his family members adorn both the William and Mildred Lasdon Biomedical Research Center and the Jacob S. Lasdon House, a residential building for medical students. And now, through this new gift, the Lasdons' generosity will provide stable funding for Weill Cornell Medicine's transplant initiatives for years to come.
"This gift from the Lasdons is transformative for our transplant program," says Dr. Kapur, the G. Tom Shires, M.D. Faculty Scholar in Surgery. "I am so grateful for their generosity, which will allow us to save even more lives in the future."