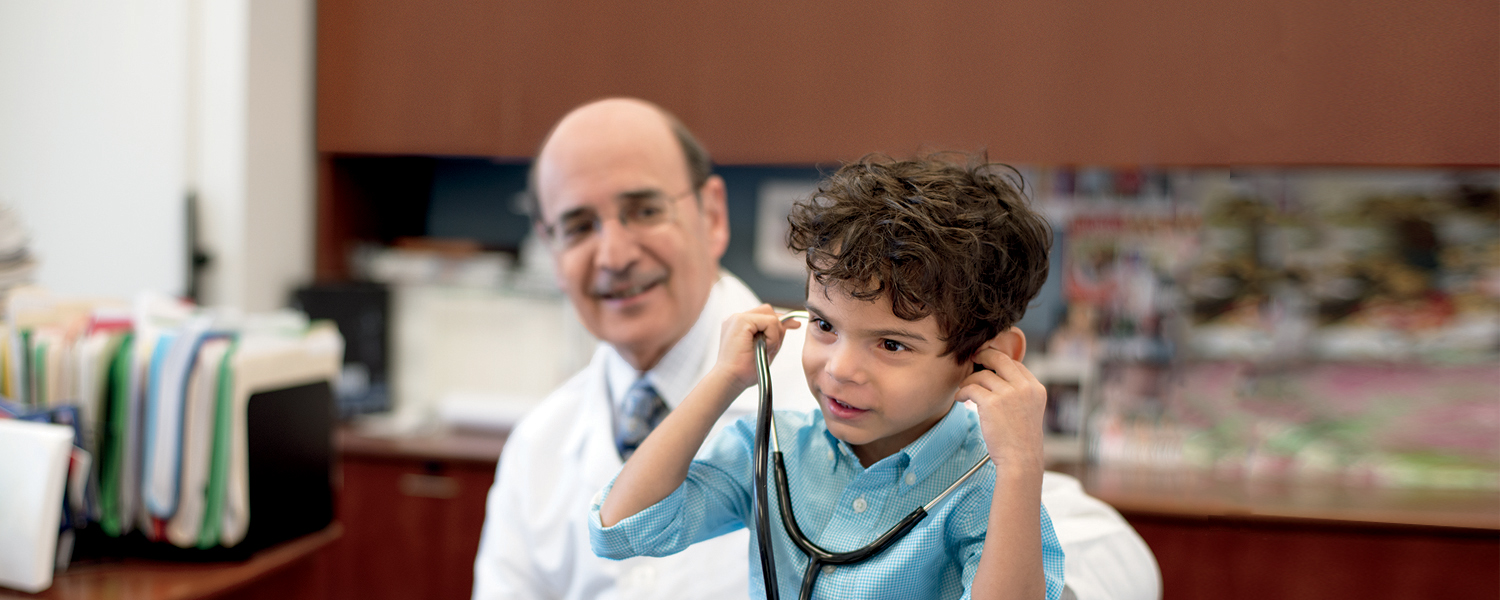 With an extraordinary $25 million gift to Weill Cornell Medical College, philanthropists and visionaries Gale and Overseer Ira Drukier have established the Gale and Ira Drukier Institute for Children's Health.
This gift will enable the Medical College to recruit a team of leading scientists, including a renowned expert who will serve as the Gale and Ira Drukier Director of the Drukier Institute, to pursue innovative research that improves treatments and therapies for children of all ages. The Institute, which will be headquartered on the 12th floor of the Belfer Research Building, will expand and enhance Weill Cornell's already-distinguished research and clinical care programs that strive to end diseases and disorders that affect children and adolescents, including asthma, autism, cancer, cardiovascular disease, infectious diseases and diseases of the mind – to name a few.
"As parents and grandparents, Gale and I appreciate the tremendous impact medicine can have on growing children," says Dr. Ira Drukier. "When you cure children, you give them their entire life back. It's with immense pride that we are able to make this investment, which will empower Weill Cornell Medical College to focus and direct all of its outstanding pediatric research under the auspices of one institute and provide vital resources to develop tomorrow's treatments and cures."
Using genomics and other cutting-edge research approaches, the cross-disciplinary Drukier Institute will drive excellence and innovation in pediatrics, seeking to seamlessly catalyze research breakthroughs into the most advanced, safe and effective patient care. Caring for children is particularly challenging because their bodies are constantly changing as they grow, and their metabolisms and immune systems are vastly different than those of adults. This institute will tackle these challenges in an effort to provide the best possible care for patients, incorporating precision medicine to provide individualized treatments whenever possible.
The Drukiers have a legacy of philanthropy at Cornell University, having provided generous support to its Herbert F. Johnson Museum of Art and College of Architecture, Art and Planning. Dr. Ira Drukier is an alumnus of Cornell University, while Dr. Gale Drukier is an alumna of New York University, where she serves as a Trustee.
"It gives us great joy to be able to support Weill Cornell Medical College and make such a tremendous difference in children's lives," says Dr. Gale Drukier. "This gift also continues our enduring relationship with Cornell University, with which we have been connected for 40 years."
"We couldn't be more grateful to Gale and Ira, whose generous gift exemplifies their commitment to advancing human health and their steadfast support of Weill Cornell Medical College," says Sanford I. Weill, Chair Emeritus of the Weill Cornell Board of Overseers. "The Drukiers' investment will better the lives of children in New York and beyond, and will leave a lasting mark on our next generation."
The Drukiers' gift will enable Weill Cornell to secure the latest research equipment for children's health efforts, such as sequencing and informatics technology, as well as develop an infrastructure to establish a biobank. It will also endow the Drukier Lectureship, an annual lecture at Weill Cornell on a research or clinical topic in the field of children's health, and the Drukier Prize, which will be awarded once a year to a junior faculty member in the United States or abroad for excellence and achievement in advancing research on childhood diseases or disorders.
Laurie H. Glimcher, M.D., the Stephen and Suzanne Weiss Dean, says, "The Drukiers' generosity is critical in allowing us to attract the best and brightest minds in pediatric research, who will lead the way as we pursue innovative treatments and therapies that will ensure the health of children now and in the future."
Download Milestones Issue:

Milestones February 2015