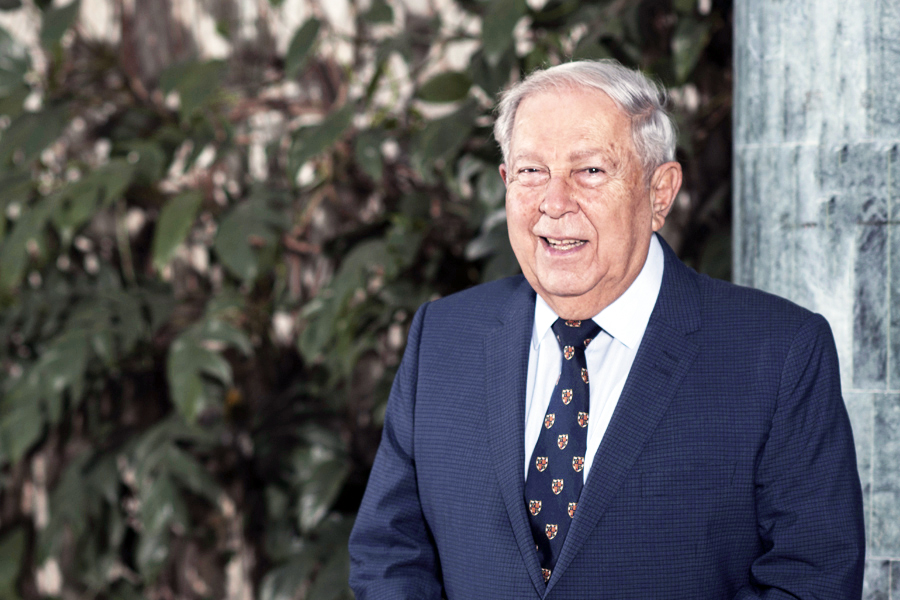 When Dr. Yusuf Hamied was diagnosed with colon cancer in 2016, he contacted a talented specialist in New York who was at the forefront of colon and rectal surgery techniques – Dr. Parul Shukla, vice chief of colon and rectal surgery at Weill Cornell Medicine.
Dr. Hamied had met Dr. Shukla five years earlier, when he underwent spinal surgery at the Hospital for Special Surgery. Within days of his cancer diagnosis in May 2016, Dr. Hamied flew from London to New York for a consultation with Dr. Shukla.
"Dr. Shukla and his team successfully operated on me and gave me a new lease on life. I owe my life to him," says Dr. Hamied, who has been declared cancer-free.
"He has an innovative approach to surgery that impressed me and I felt comfortable to be attended to by him and his team. They were superb, caring and attentive around the clock. I continue to be ever grateful to all of them."
Now, with a gift from the Yusuf and Farida Hamied Foundation, Dr. Hamied has established the Yusuf Hamied Professorship of Surgery, with Dr. Shukla as the inaugural holder. The professorship will support surgical research and clinical care, and promote professional exchanges among surgeons and doctors in the United States and globally.
"The professorship bestowed upon me is a great honor," says Dr. Shukla, an expert in gastrointestinal surgical oncology who has practiced medicine in four countries: Australia, India, the United Kingdom and the United States. "This opportunity will help us to move forward in our mission to provide the best in care and education at Weill Cornell Medicine and in many parts of the world."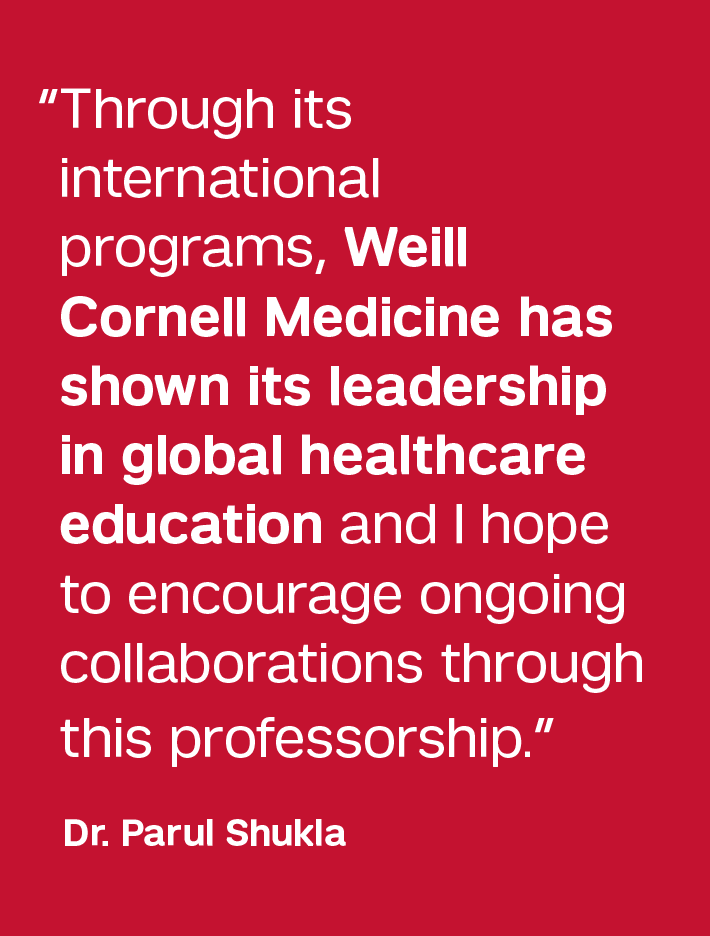 The endowed professorship allows Dr. Shukla to continue his pioneering work, utilizing cutting-edge laparoscopic, endoscopic and robotic techniques to perform minimally invasive surgery. It also provides support to him and future holders, encouraging much needed surgical training to doctors worldwide.
"Through its international programs, Weill Cornell Medicine has shown its leadership in global healthcare education, and I hope to encourage ongoing collaborations through this professorship," says Dr. Shukla.
"I believe the sharing of ideas and knowledge between leaders in medicine and education in countries around the world, and specifically India, is important," says Dr. Hamied, who comes from Mumbai, and received an undergraduate degree with honors and a doctorate from the University of Cambridge. One of the longest established chemistry chairs at the University of Cambridge is now known as the Yusuf Hamied 1702 Chair of Chemistry, in his honor. In 2005, the Indian government awarded Dr. Hamied one of its top civilian honors, the Padma Bhushan, and in 2019 he was elected as an Honorary Fellow of the Royal Society, the UK's national academy of sciences, for his substantial contributions to the improvement of science and humanity.
Dr. Hamied has been a philanthropist, focusing his attention on education and healthcare for much of his life. He is the non-executive chairman of Cipla, a global pharmaceutical company started by his late father, Dr. K A Hamied in Mumbai. Among Dr. Yusuf Hamied's major achievements was the pioneering effort to provide medicines to combat HIV/AIDS to developing countries at a low cost, saving countless lives. This endeavor was portrayed in the 2013 documentary "Fire in the Blood."
Currently, to help patients during the COVID-19 pandemic, Cipla is again providing medicines to healthcare organizations at affordable prices, making treatment more accessible.
"One of our missions at Cipla is to combine business with a humanitarian approach: caring for life," says Dr. Hamied. "This philosophy, when translated to the medical profession, can lead to the making of a great doctor – one with a human touch like Dr. Shukla. I would sum up Dr. Shukla and his work in one word: empathy. He has a deep ongoing concern for his patients, which endears him to them for life."
"Dr. Hamied is relentless in his pursuit to help people," says Dr. Shukla. "We are incredibly grateful for his visionary gift that will enhance our ability to care for people and share our expertise with doctors around the world."
Download Milestones Issue:

Milestones October 2020