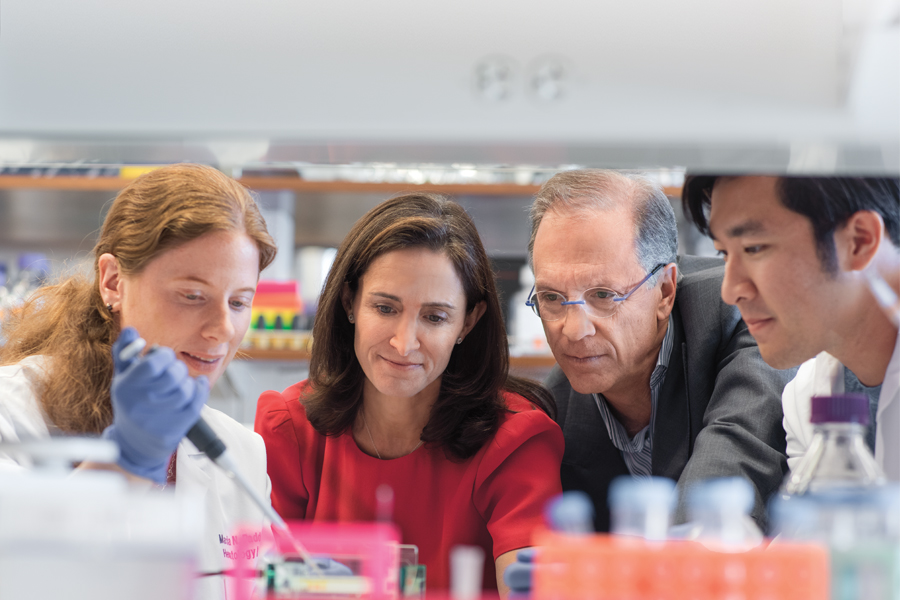 This significant, foundational gift will launch the Ellen and Gary Davis Immune Monitoring Core, a critical research infrastructure that will serve as a repository for patient tumor samples, genomic sequencing and bioinformatics. The core will analyze and provide centralized, sensitive and quantitative patient data that investigators can use to advance their research into immunotherapy. This $2 million gift lays the cornerstone for further expansion in immunotherapy research and strengthens Weill Cornell Medicine's position as a leader in the development of powerful new weapons in the fight against cancer. A portion of the gift will fund research collaborations between investigators at Weill Cornell Medicine, Cornell University and Cornell Tech, strengthening the critical bridges between New York City and Ithaca.
"We are extremely grateful to Ellen and Gary, whose strategic gift establishes an important foundation for immunotherapy research that is befitting of the treatment's promise," says Chairman of the Board of Overseers Jessica Bibliowicz. "Ellen and Gary's generous support will augment our growing immunotherapy program, bolster our rich research communities at Weill Cornell Medicine and Cornell University, and bring us closer to eliminating cancer."
The Davises have a legacy of philanthropy at Cornell University and Weill Cornell Medicine – Mrs. Davis is a Weill Cornell Medicine Overseer and Mr. Davis is a Cornell University Trustee and alumnus. They have endowed the Gary S. Davis Professorship of Government, the Gary and Ellen Davis Curator of Photography at the Herbert F. Johnson Museum of Art in Ithaca, and established a joint fellowship at the Meinig School of Biomedical Engineering and Weill Cornell Medicine to advance research into epilepsy.
"Immunotherapy represents one of the most exciting avenues of investigation for fighting cancer," say Mr. and Mrs. Davis. "We are proud to be able to make this important investment, empowering Weill Cornell Medicine and its unparalleled oncology program, led by Dr. Lewis Cantley, as well as the distinguished investigators at Cornell in Ithaca and engineers at Cornell Tech, to realize the promise of immunotherapy."
Immunotherapy has become a promising new therapy for many types of cancers, hailed as the "fifth pillar" alongside surgery, radiation, chemotherapy and precision-targeted therapeutics. While the latter four attempt to remove or attack cancer cells directly, immunotherapy utilizes a patient's own immune system to strike the disease from within. Scientists have made important advances in this therapeutic area that have improved patients' lives and the outcomes of their diseases. However, most patients do not respond to immunotherapy alone, and it is not yet possible to predict who may need secondary, complementary treatments – or who may have developed treatment resistance. The Sandra and Edward Meyer Cancer Center at Weill Cornell Medicine is committed to overcoming those obstacles.
"Thanks to the Davises' generosity and steadfast dedication to improving health, we will now be able to advance our understanding of this powerful therapeutic avenue, ensuring that more patients benefit from immunotherapy," says Dr. Cantley, Meyer Director of the Meyer Cancer Center and professor of cancer biology in medicine.
The Davis Immune Monitoring Core will be a valuable, shared resource for the Meyer Cancer Center and the Caryl and Israel Englander Institute for Precision Medicine. In order to drive new scientific breakthroughs and innovations that may enhance the potential of immunotherapy, the core will offer a robust technological infrastructure that will allow investigators to analyze, sequence and archive tumor samples, explore the tumor microenvironment and conduct expression studies. Bioinformatics technology will empower scientists to examine the array of data from those studies and translate their findings into assays that can be used to measure the efficacy of immunotherapy for each patient. Insights gleaned from those tests will be used to inform ongoing treatment decisions, determine effective adjunct therapies and predict patient response and resistance to therapy.
Underscoring the special synergy between Cornell University, Weill Cornell Medicine and Cornell Tech, the Davises have dedicated $400,000 of their gift to fund research collaborations between investigators in New York and Ithaca. The research support, offered through competitive grants, will enable investigators to drive new innovations in immunotherapy that will benefit patients in New York and beyond.
"Cancer is a devastating disease, and it is our responsibility to find new, more effective and more tolerable treatments that will allow patients to get back to their everyday lives," says Dr. Augustine M.K. Choi, interim dean of Weill Cornell Medicine and interim provost for medical affairs at Cornell University. "The Davises' transformative gift helps us to do just that, providing valuable resources and fostering research collaborations so that we can perfect immunotherapy. We thank these champions of groundbreaking biomedical research for their incredible generosity."
Download Milestones Issue:

Milestones December 2016