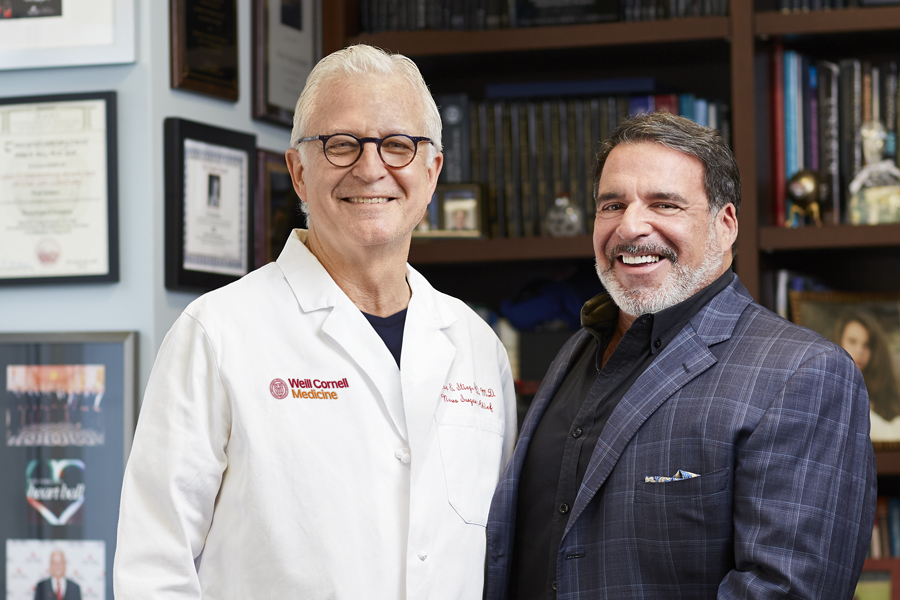 Inspired by his time at Weill Cornell Medicine as a medical student, graduate student and faculty member in the Department of Neurological Surgery, Dr. Robert Hariri (MD '87, PhD '87) and his wife, Margaret, have established the Margaret and Robert J. Hariri, MD '87, PhD '87 Professorship of Neurological Surgery with a generous $3 million gift to the institution.
"I consider Weill Cornell Medicine to be an integral part of my life and the catalyst for building a career in medicine, surgery and biotechnology," says Dr. Hariri, a graduate of the Tri-Institutional MD-PhD Program at Weill Cornell. He currently serves as CEO and co-founder of Celularity, a clinical-stage cell therapeutics and functional regeneration company based in New Jersey. "Training and working with such an array of talented scientists and innovative faculty and clinicians at Weill Cornell was incredibly valuable to me."
The inaugural holder of the professorship established by Dr. and Mrs. Hariri is intended for Dr. Philip Stieg, chairman of the Department of Neurological Surgery at Weill Cornell and a renowned neurosurgeon, clinical investigator and educator.
"Phil is a brilliant surgeon and scientist and he's also a very innovative thinker," says Dr. Hariri. "He is committed to changing the way neurological diseases are treated, and he's open to new technologies and tools, such as cell therapy and regenerative medicine. With this gift, I saw a rich opportunity to do something meaningful for Weill Cornell and open new opportunities for collaboration between academic and industry scientists."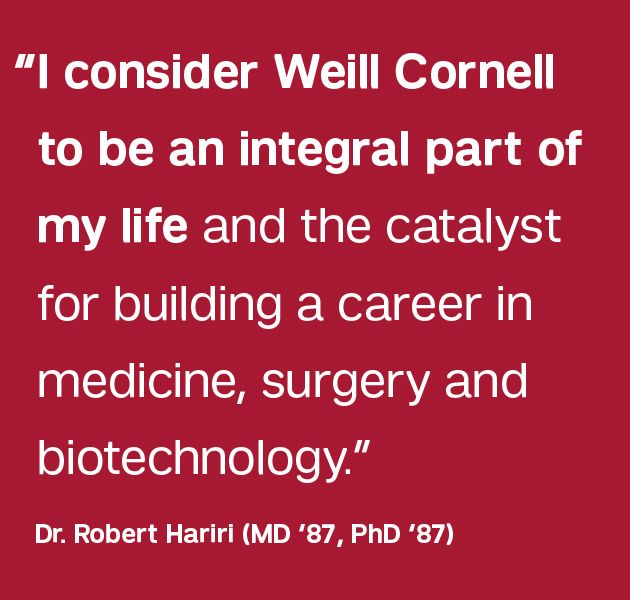 The professorship will support research in the department and will encourage exploration of new therapeutic technologies at Weill Cornell Medicine.
"This is a milestone in the development of the Department of Neurological Surgery," says Dr. Stieg. "It's been an honor to cultivate a deep friendship and a scientific relationship with Dr. Hariri. The impact of this gift is immeasurable."
The Department of Neurological Surgery has grown immensely during Dr. Stieg's 19 years as chairman. In that time, the department has expanded from three neurosurgeons to 25 full-time clinical faculty members and three neuropsychologists who are supported by more than 100 clinical and administrative staff. The department conducts over 4,500 surgical interventions each year and trains 15 residents and eight fellows in advanced neurosurgical techniques annually.
"I think Weill Cornell is the finest healthcare institution in New York City and the perfect environment to support technical and clinical innovation," says Dr. Hariri. "The institution is poised to be a leader in the next evolution of cellular and regenerative medicine, and in the field of neurosurgery."
A serial entrepreneur and a leader in the field of cell therapeutics, Dr. Hariri's first business idea came to him while he was a student at Weill Cornell. Dr. Hariri developed unique dual-ended microsurgical instruments, using his engineering background from his undergraduate studies, which he then went on to sell to a large surgical instruments company.
"I was fortunate to have also built a neurosurgical device company with a brilliant former Weill Cornell faculty member and neurosurgeon, Dr. Jamshid Ghajar, with whom I shared many years studying traumatic brain injury," says Dr. Hariri. "My interest in stem cells was catalyzed, in large part, by my interest in finding ways to treat traumatic brain injury."
Other mentors and peers also inspired Dr. Hariri during his time at Weill Cornell, notably Dr. David Hajjar, university professor and executive vice chair of pathology and laboratory medicine, and former dean of the Weill Cornell Graduate School of Medical Sciences. Their relationship remains strong today.
"I was very fortunate to train under Dr. Hajjar, who is one of the foremost vascular biologists in the world," says Dr. Hariri. "So much of what I learned in Dr. Hajjar's laboratory was the basis for my work in the company that became Celularity."
When regenerative medicine was in its infancy, Dr. Hariri recognized the importance of creating scalable, cellular products for pharmaceutical use. His recognition of the placenta as an ideal source of those products has led to formidable progress in everything from immunotherapy to the treatment of degenerative diseases. Dr. Hariri admired Weill Cornell's interest in developing novel strategies to treat diseases and its willingness to take risks, and was inspired to follow this model when building his own company.
Since that time, Dr. Hariri has led a number of companies, including one of the world's largest human cellular therapeutics companies, Celgene Cellular Therapeutics – a division of Celgene Corporation – where he was founder and served as chairman and chief executive officer. Dr. Hariri also co-founded the health intelligence company, Human Longevity, Inc., and sits on numerous boards of companies in the healthcare and technology sectors. A high-performance jet aviator, Dr. Hariri has also been an innovator in aerospace, and has served as a military surgeon in the Army National Guard.
"It is very gratifying to be in a position to support institutions like Weill Cornell. My family and I have been fortunate enough to be able to make meaningful contributions to my undergraduate alma mater, Columbia University, and Princeton University, where my children have studied. But my relationship with Weill Cornell is particularly important to me because I remain in contact with many of my classmates and mentors from my time there," says Dr. Hariri. "Those who are giving back to an institution should allow their donor activities to foster more direct interaction. Then, you can continue to help shape something that will serve the institution to which we owe so much."
Download Milestones Issue:

Milestones March 2020