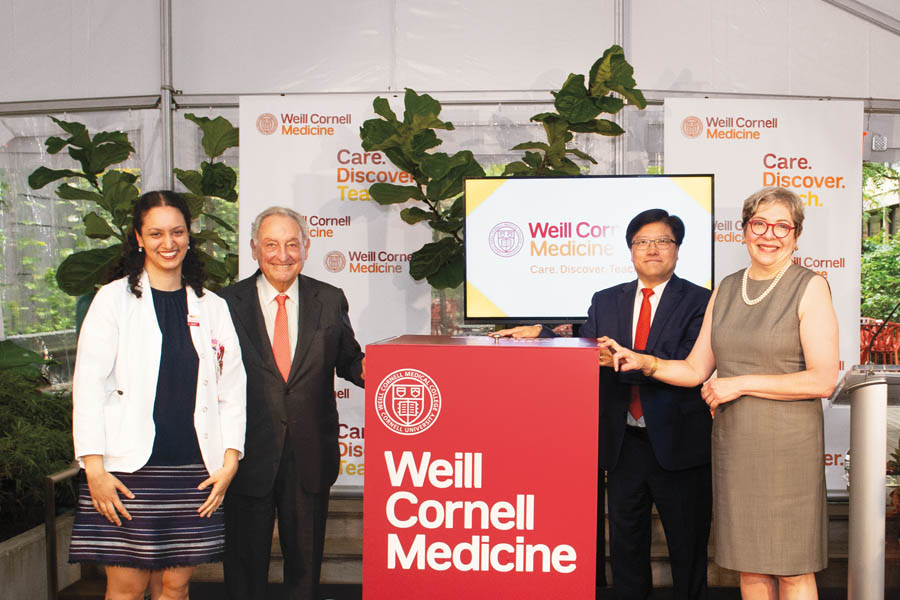 A transformative new scholarship program established by Weill Cornell Medicine will eliminate medical education debt for all students who qualify for financial aid. A lead gift from The Starr Foundation, directed by Weill Cornell Medicine Overseer Maurice R. Greenberg, in partnership with gifts from Joan and Board of Overseers Chairman Emeritus Sanford I. Weill and the Weill Family Foundation, have made this longstanding goal possible. Through these landmark gifts, including those from other generous donors that together total $160 million, the institution will ensure that the best and brightest aspiring doctors have the financial support and freedom to seek careers in medicine.
"Weill Cornell Medicine has been a leader in medical education since its inception in 1898, dedicated to training outstanding physicians and scientists from all walks of life,'' says Dr. Augustine M.K. Choi, the Stephen and Suzanne Weiss Dean of Weill Cornell Medicine and provost for medical affairs at Cornell University. "It is with extraordinary pride that we are able to increase our support of medical education for our students, ensuring that we can welcome the voices and talents of those who are passionate about improving human health."
The announcement of the debt-free initiative was made at an event held on September 16.
By replacing student loans with scholarships, the program ensures that all students, including those from economically diverse backgrounds, can pursue their medical education without financial burden, and can ultimately focus their careers on their interests and talents, rather than on the requisite future salaries to repay their debt.
"It is a great privilege to make such an important and impactful contribution to the futures of our medical students,'' says Mr. Greenberg, chairman of The Starr Foundation and the architect of this ambitious new scholarship program. "Scholarships are crucial to the success of our trainees, freeing them from the weight of excess debt that has traditionally accompanied medical education. We couldn't be more pleased to support our students as they work to improve the lives of patients worldwide."
"Joan and I and the Weill Family Foundation have been honored to support Weill Cornell Medicine's mission over the last 30 years, making an impact where the need is greatest,'' says Mr. Weill. "Providing debt-free medical education isn't just what's right for our students, it is critical to creating the finest doctors for all generations to come and helping level the playing field between underserved and wealthy communities. We really believe that this is the best thing we have ever done."
The program is the cornerstone of a comprehensive suite of initiatives aimed at enhancing the life and wellbeing of students, and includes the new Feil Family Student Center, planned construction of a new, modern residence hall, and a variety of mentorship and wellness initiatives.
The expanded financial aid program is the culmination of decades of philanthropy from numerous Weill Cornell Medicine benefactors, whose gifts have established and strengthened the institution's scholarship endowment. The Starr Foundation's lead gift toward scholarship – the single largest in its history – together with the Weills' and their family foundation's pivotal support, makes this new program possible. Significant gifts from Christina Seix and Overseer Robert S. Dow, who in March made an eight-figure commitment toward scholarship support, and a multitude of other donors have enabled Weill Cornell to reach this milestone.
The institution is committed to raising additional funds to support its scholarship endowment and ensure that the new program is sustained permanently.
"Students whose passions, skills and talents point the way to medicine can now pursue their career aspirations unencumbered by the pressure that comes with significant debt burdens,'' says Jessica M. Bibliowicz, chairman of the Weill Cornell Medicine Board of Overseers. "We are immensely thankful to our visionary donors, who were committed to making this program possible for students." 
At the announcement of the debt-free initiative, third-year medical student Sarita Ballakur shared her own story of financial struggle.
"More than anything, I am completely relieved and grateful to the donors who made this possible,'' Ms. Ballakur said. "This means so much to me, to my family and to all my fellow students. I'll be going into the future with a lighter load on my shoulders. I can't wait to pay forward this generous benefit that I have received from Weill Cornell today."
Although Weill Cornell Medicine currently has among the lowest annual tuition costs, compared with its Ivy League peers, students still spend an average of $90,000 per year on tuition, housing, insurance, living expenses and other fees. The new financial aid program – provided to students through scholarships – will cover the entire cost of attendance for those who qualify.
To help students realize their educational aspirations, Weill Cornell Medicine is also developing modern learning and living environments that promote student wellness, collaboration and engagement. A $12.5 million gift from the Feil family in 2017 funded construction of the newly opened Feil Family Student Center, which expands the institution's dedicated student space by nearly 75 percent. It will complement the Weill Education Center, established in 1996 by the Weill family and other generous donors, and renovated in 2015.
A vibrant new residence hall within walking distance of Weill Cornell Medicine's main campus is also in development, pending additional fundraising, with expected occupancy in 2023. It will house 300 students and augment the institution's recently renovated student living space, Lasdon House, which features a wellness and fitness center that opened last year.
"As we work to reshape healthcare and grow as a center of learning and healing – as we become more diverse and dynamic – we stay centered on a fundamental idea: Weill Cornell Medicine is where everything connects," says Dean Choi. "It's how we build on our legacy."
Download Milestones Issue:

Milestones October 2019