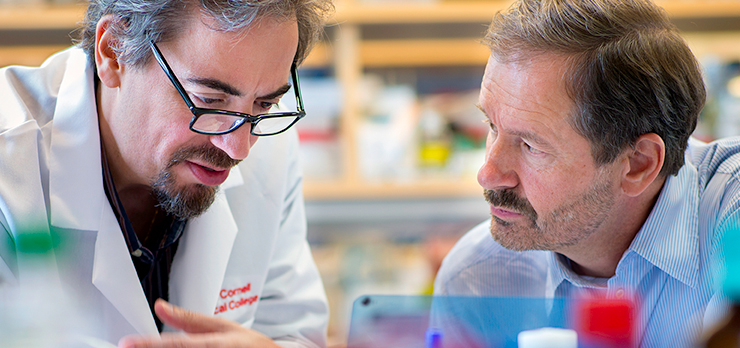 Driving the Discoveries that Change Lives
The research enterprise at Weill Cornell Medicine brings internationally renowned physician-scientists together, across disciplines, to target some of the most formidable health challenges of the 21st century, including cancer, cardiovascular disease, metabolic diseases, neurodegenerative diseases, diseases affecting children and infectious diseases. Our researchers are pushing scientific discoveries forward and speeding breakthroughs made in the laboratory directly to the patient's bedside.
A cornerstone of our research efforts is the Belfer Research Building, a state-of-the-art facility that stands at 69th Street and York Avenue and opened its doors in January of 2014. The building is designed with collaboration in mind. It houses laboratories for the Tri-Institutional Therapeutics Discovery Institute, the Sandra and Edward Meyer Cancer Center, the Joan and Sanford I. Weill Center for Metabolic Health, the Feil Family Brain and Mind Research Institute, the Helen and Robert Appel Alzheimer's Disease Research Institute, the Gale and Ira Drukier Institute for Children's Health, the Jill Roberts Institute for Research in Inflammatory Bowel Disease and more.
Some of our most exciting work is in the field of precision medicine, i.e., the mapping of an individual's genome to create tailored treatment plans, rather than "one-size-fits-all" medicine.  Individualized care speeds recovery and allows doctors and patients to manage health concerns from the inside out. Weill Cornell Medicine is at the forefront of this exciting new field, and it is just one of many examples of the way that pioneering research can lead to better health care for patients.
Supporting research efforts at Weill Cornell Medicine promotes innovation, entrepreneurship and the leading-edge discoveries that can transform patient care.